The next update after the iOS 6.1.2 has been released to fix issues that were being faced by those who downloaded the update.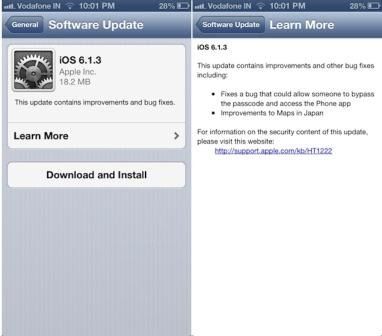 The iOS 6.1.3 fixes the bugs that allowed other to bypass the passcode and access iPhone apps. It has also repaired the issues being faced on the lock screen.
The 6.1.2 update that was launched earlier this year had bug issues that allowed anyone to bypass the passcode to access the user's apps, view/modify contacts, check voicemails and browse photos. The hacking process was shown on YouTube by a iPhone user and in its update Apple has acknowledged the problem.
The iOS 6.1.3 update adds improvements to Apple Maps in Japan.
The iOS 6.1.2 update was launched to fix some Exchange Calendar bug which was draining the device battery faster.
The new update was released yesterday for all Apple device, and today the iPhone user on YouTube again posted a video to show that the passcode bypass problem still exists. Hopefully, Apple fix this issues faster than it did the last time.