If a new study is to be believed than it is confirmed that the top two smartphone makers in the United States RIM and Apple, with 39.3 percent and 23.8 percent share respectively, are losing customers to Google's Android phones. "Despite losing share to Google Android, most smartphone platforms continue to gain subscribers as the smartphone market overall continues to grow," says a new report by comScore.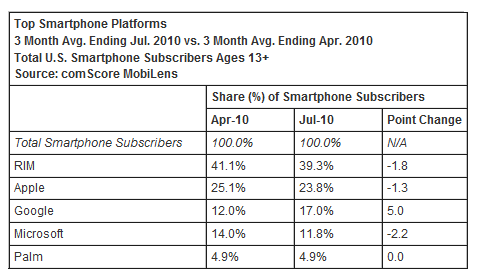 According to the study, 53.4 million people in the U.S. owned smartphones during the three months ending in July, up 11 percent from the corresponding April period. "Google saw significant growth during the period, rising 5.0 percentage points to capture 17 percent of smartphone subscribers." In addition, Microsoft accounted for 11.8, while Palm rounded out the top five with 4.9 percent.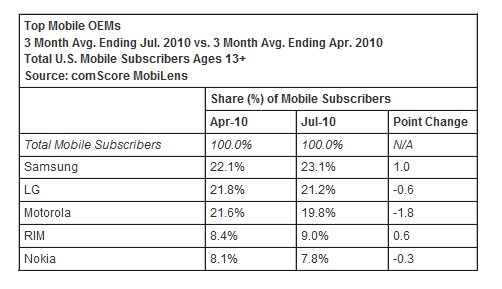 The report also found Samsung to be the top handset manufacturer overall with 23.1 percent market share, up one percentage point from the preceding three month period; while RIM led among smartphone platforms with 39.9 percent market share. LG ranked second with 21.2 percent share, followed by Motorola (19.8 percent share), RIM (9.0 percent share, up 0.6 percentage points) and Nokia (7.8 percent share).