The 'Cameraphone' bug has engulfed us I believe..and this curiosity led us to some interesting uncovering and learning for us. How big is the culture of Cameraphones? Are cameraphones really bigger in usage than digital cameras? How is the evolution and trend? Where do we get answers for these questions. The famous photo-sharing community 'Flickr' does have some answers to the above questions. Hundreds of thousands of photos are uploaded into Flickr everyday. The photos are taken by users spread across the globe using various kinds of equipments. These statistics are compiled by Flickr everyday. This particular section throws us some good insights. Lets' begin! When you look at the top 5 gadgets used to capture and upload photos into Flickr, Apple iPhone 3G tops the chart. iPhone 3G leads the chart with considerable margin. The next 4 popular gadgets are Nikon D90, Canon EOS Digital Rebel XSi, Canon EOS Digital Rebel XTi, Canon EOS 5D Mark II. Just yesterday alone 5302 users captured and uploaded 31296 photos into flickr through iPhone 3G! Pretty impressive! So there goes the first victory. A Cameraphone is the most used gadget to capture photographs globally!

When we just look at the top cameraphones used by the community, the following devices come up. Apple iPhone 3G, Apple iPhone 3GS, Apple iPhone 4, HTC Evo 4G, HTC Desire. Apple iPhone 4 in particular is having good momentum!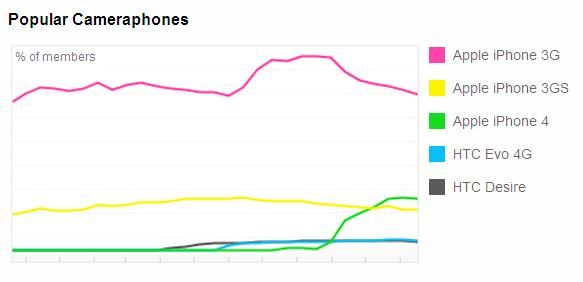 Top 5 Nokia Cameraphones: Nokia N95, Nokia 5800 XpressMusic, Nokia E71, Nokia E63, Nokia 5130 XpressMusic Top 5 HTC Cameraphones: HTC EVO 4G, Droid Incredible, HTC Desire, Google Nexus One, Hero 200 Top 5 Blackberry Cameraphones: Bold 9700, Curve 8520, Tour 9630, RIM 8530, Curve 8900 Top 5 LG Cameraphones: LG KU990, LG VX-9550, LG CU720 Top 5 Motorola Cameraphones: Motorola Droid, Droid X, CLIQ, BackFlip, Razr V3x Top 5 Sony Cameraphones: Sony K800i, Sony W580i, C905, W810i, W995 http://www.flickr.com/cameras/ Ofcourse, there's a skew in this analysis. We are considering the historical data, we are considering only Flickr community. But this is a good proxy!