"The plus-sized offering in the latest Apple iPhone portfolio packs in a smorgasbord of new goodies"
Those who follow Apple and its smartphone offerings know that the 's' suffix in the iPhone range is added on a biennial basis, and usually brings a spec-bump. The new Apple iPhone 6s and 6s Plus follow the same trend to a large extent, but the brand's creative marketing department sure has come up with a rather catchy tagline for the two devices – "the only thing that's changed is everything". Us tech journos have become accustomed to filtering out overzealous marketing jargon from press releases and brand propaganda spontaneously over a period of time, but we think Apple might not be too far away from the target here. A quick glance at the list of new features and upgrades that have been added to the new iPhone duo should be enough to justify why we're saying this. Keep in mind that the basic design ethos of the new models hasn't been changed at all compared to the previous generation, so our statement might seem a little far fetched, but do allow us to explain. We have the Apple iPhone 6s Plus in our hands (the top-end 128 gig variant no less), so without further ado, let us give you a closer peek. Before we get into that though, we'll check what's included in the retail box.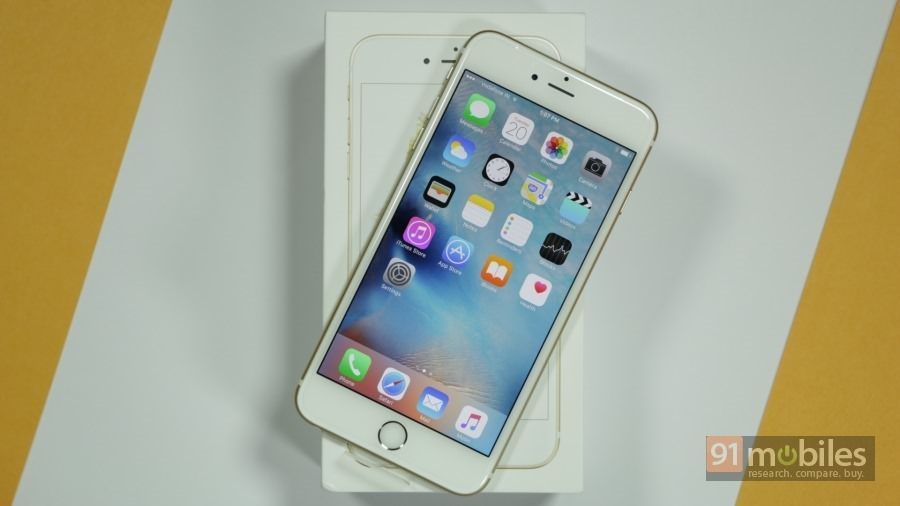 The iPhone 6s Plus comes in a white cardboard box with a life-sized image of the device on top. The lettering 'iPhone 6s Plus' is emblazoned on the sides, while the back of the box carries the labels, specs and other regulatory info. Open the lid and you'll see the phone resting on top of a plastic tray, wrapped in a transparent sheet.
Below that, there's a cardboard envelope containing a SIM eject tool and the documentation. Once the envelope is pulled out, you'll see the two-pin wall charger (bearing a rating of 10W, 2.1A) lying inside a cavity. Next to it is a plastic box containing the Earpods, Apple's wired stereo headset with an inline microphone. Right below that, you'll also find a USB to Lightning cable hidden.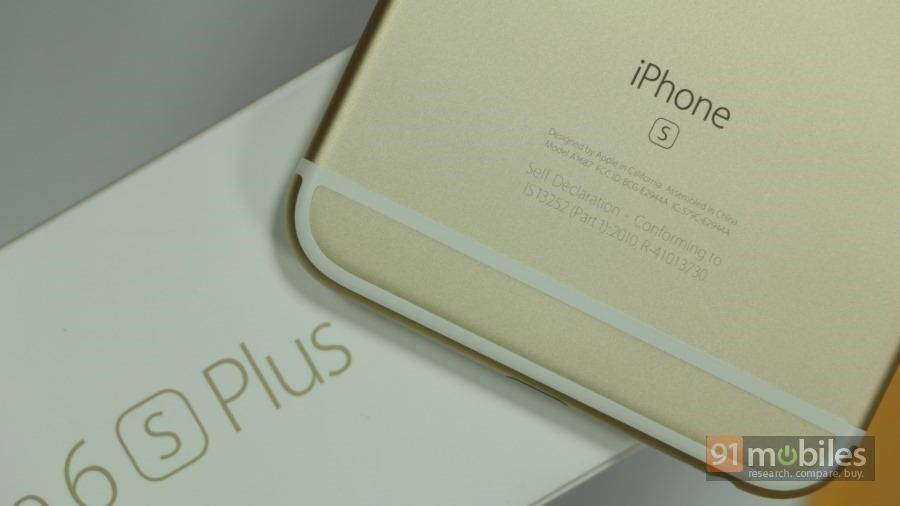 Coming to the handset, one glance is enough to see that Apple hasn't broken the mould as far as design is concerned. The iPhone 6s Plus looks exactly like its predecessor, and it'd be almost impossible to tell the two apart save for the little 's' written along with the model name on the rear of the new model. At 7.3mm, the 6s Plus is a hair thicker than the older phone, but a good 20g heavier – so the difference should be noticeable when you hold both of them in your hands. Apple says the latest pair of phones feature ion-strengthened glass and are crafted out of aircraft-grade 7000 series aluminium alloy, so clearly, it doesn't want a repeat of the infamous Bendgate issue that plagued the iPhone 6 Plus last year.
The 5.5-inch, Retina HD display hogs the limelight at the front, with white bezels surrounding it and carrying the earpiece, front camera and sensors on top. The circular Home button below the screen is surrounded by a golden ring on our review unit, and hides an improved, faster Touch ID 2.0 sensor to detect fingerprints. Worth mentioning here that Apple was one of the first smartphone brands to figure out a seamless integration of fingerprint scanners into its offerings, and ever since the iPhone 5s, has been improving the feature with each new iteration. A handful of other smartphone makers have offered fingerprint scanners in the past, but it's only recently that the feature is starting to become more mainstream on the Android side.
The iPhone 6S Plus bears the power key on the right, alongside the ejectable SIM tray that gobbles up a nano-SIM. On the left, you'll find two separate volume keys, and a mute slider switch. The top is barren, while the bottom bears the Lightning port, the headset socket, the primary mic and a row of large holes that hide the speaker.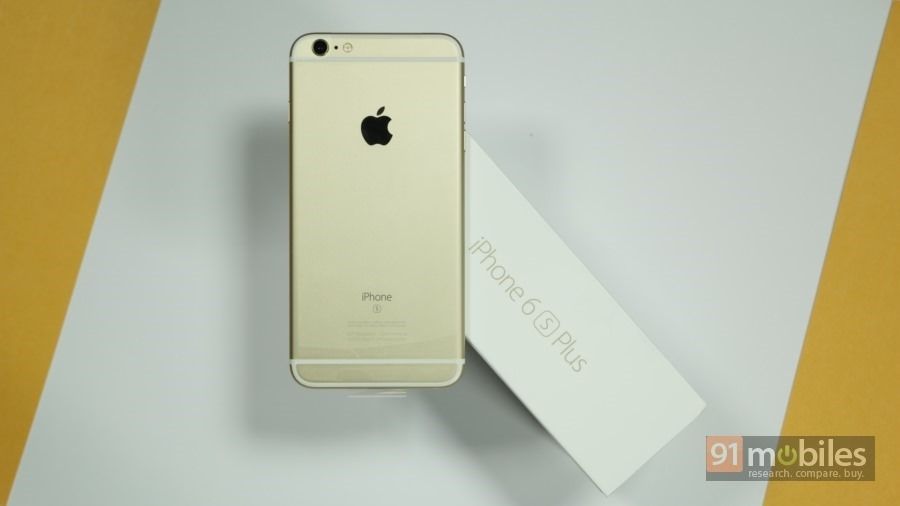 The rear is almost unchanged too. Our unit had white plastic inlays breaking the monotony of the gold unibody on top and bottom. The top left holds the circular lens for the primary camera, jutting out slightly from the phone's body. Next to it lies the secondary microphone and the true-tone LED flash. A shiny Apple logo, iPhone S branding and regulatory information can also be seen.
So nothing Earth-shaking so far. A bump in specs was expected, and Apple dutifully responded by cramming in a new 64-bit A9 chip that's touted to be 70 percent faster and offer 90 percent better graphics performance. Not only that, Apple is saying that the new hardware is more power efficient as well, resulting in better better life. Also integrated into the processor is the new M9 motion coprocessor that enables you to use Siri directly from standby, without needing the phone to be plugged into a power source… as was the case earlier. Connectivity features like Wi-Fi and LTE have been boosted for better speeds as well. Our 128GB model had about 112GB free to use for apps and content out of the box.
As far as the software platform is concerned, the iPhones run iOS 9, the latest version of the Cupertino major's mobile OS. While the look-and-feel of the platform remains the same, the latest iteration brings new features like a new News app, improved Siri, enhanced security and updates that now take less storage space to install. The UI remains the same – fluid and a cinch to use.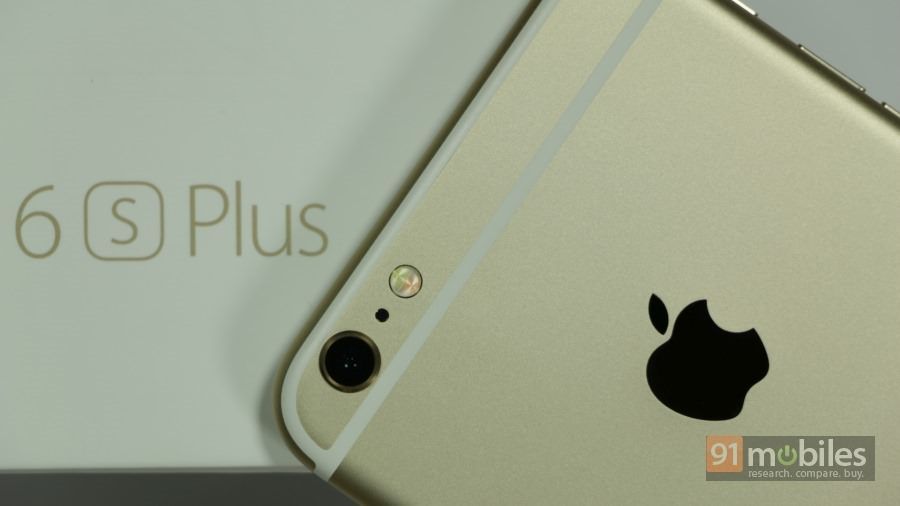 The iPhones have always been very capable when it comes to photography, and this holds true across different generations. Last year's models, the 6 and 6 Plus, were no different, and despite their 8-meg sensors that were way behind in terms of pure megapixel count as compared to rival Android flagships, came across as great shooters. Apple has never been in the megapixel race, but still, a bump in that department was long overdue. So the new iPhones get 12-megapixel iSight sensors, complete with support for recording 4K videos. In keeping with the times, the front FaceTime cameras have been boosted to 5-megapixels, along with a so-called Retina flash, a feature that increases screen brightness by up to three times while capturing selfies. Yet another new feature flaunted by the new pair of devices is Live Photos, generating tiny, 1.5-seconds video clips using images shot immediately before and after the picture is actually taken. The feature is akin to HTC's Zoe, so this is nothing we haven't experienced before, but adds to the sheen for sure. The iPhone 6s Plus retains the optical image stabilisation that its predecessor boasted. Considering the predecessors were already very good shooters, we're hoping our upcoming camera review of the iPhone 6s Plus gives us enough to place it on top of the podium yet again.
If we were to name one new feature as the highlight though, it has to be 3D Touch. With the iPhone 6s and 6s Plus, Apple has added a new dimension to the user interface. With 3D Touch, you get a whole new way to interact with apps and content, something that goes a few steps beyond the usual taps, long presses and swipes. The screens on the new iPhones can recognise pressure, and with compatible apps, this presents a new layer of interaction. The simplest way to highlight this is Quick Actions, a contextual menu that appears when you press the icon of an app that supports this. Do note the use of the word 'press', and not 'tap'. Therein lies the difference. You see, if you press the Camera app icon (just as an example), out pops a menu that displays relevant shortcuts that can be used without opening the app. The options for the camera include capturing a selfie, recording a video, recording a slo-mo video and capturing a photo. Similarly, pressing the Mail icon lets you jump to your inbox, head to the VIP inbox, search or compose a new message. Maps lets you navigate home, mark your location, send your coordinates and search nearby.
Many first-party apps support Quick Actions, and quite a few third-party ones like Facebook and WhatsApp have added similar functionality too. One of our gripes with Quick Actions is that there's no way to identify which apps support this feature, and which ones don't. So if you were to press the Weather app icon, you just get a vibration to show for your efforts – indicating that the action has been registered but there are no Quick Actions available.
3D Touch also enables a couple of other new features called Peek and Pop. Peek essentially gives you content previews without leaving the app you're currently using. So if you were to press on an email in your inbox list within the Mail app, you'll get a pop-out window giving you a peek at the contents. Similarly, pressing on a link will open a preview of the web page. Take your finger way, and you'll be back where you were earlier. Press harder though, and you'll see how Pop works… jumping to the corresponding app, Safari in the case of a web link for example. Peek works in various apps, like giving you image previews in the Photos app for instance.
In our opinion, 3D Touch is possibly the most significant change in iOS and Apple iPhone history so far. It not only presents a unique, fun way to interact with apps and content, but also make things faster and more convenient… making sure you don't need to launch apps or switch to others when you can just do what you want to do by a press. However, this innovation comes at a huge cost. iOS has always been one of the easiest mobile OSes to master, even for first-timers, toddlers, and the elderly. With 3D Touch, Apple has added a new layer of complexity, something which may not gel well with the overall ethos of being idiot-proof. Still, it's not that you can't get by without using 3D Touch – the iPhones can be operated as usual even if you don't use this functionality at all. These are early days for this new feature, so it remains to be seen how Apple improves it and how app developers integrate it into their offerings – we'll be watching closely.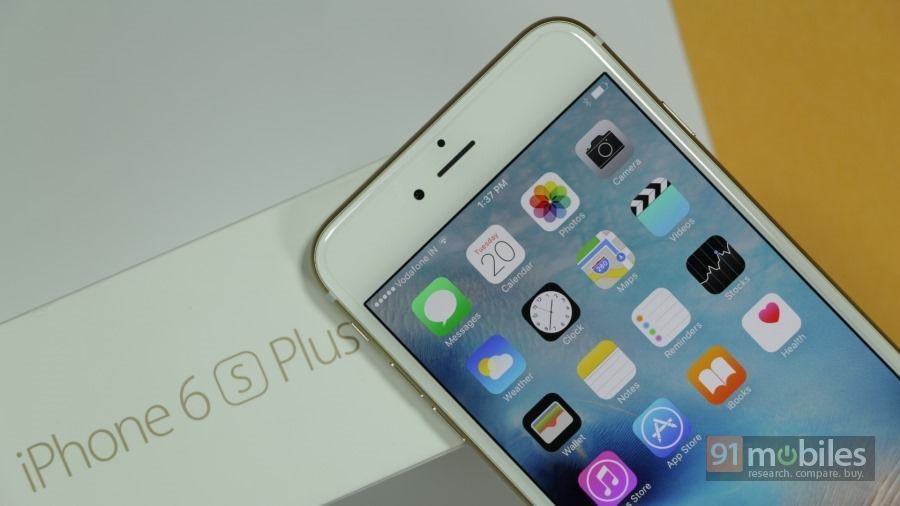 As far as the iPhone 6s and 6s Plus are concerned, the devices look like compelling options, provided you have the dough to afford one. Starting at Rs 62,000 for the base 16GB iPhone 6s, going all the way up to a heart-stopping Rs 92,000 for the iPhone 6s Plus 128GB, you have to be seriously loaded to be considering one of these. Getting the 16GB model hardly makes any sense, considering you're bound to run out of storage sooner than later. So you're basically looking at shelling out Rs 72,000 or Rs 82,000 for acquiring the 64GB variant of the 6s or 6s Plus respectively. This is a serious outlay, and probably something that needs careful consideration and a look at the opportunity cost involved. Just to give you a sense, you can buy about eight Coolpad Note 3 phones for Rs 72,000. The Coolpad Note 3 (first impressions), in case you didn't know, offers worthy specs like a 5.5-inch HD screen, dual-SIM 4G support, a fingerprint scanner, and 3 gigs of RAM. If you want a premium option, the same amount can get you a couple of Samsung Galaxy S6 phones, and leave you with some change too. Going beyond phones, Rs 72,000 could buy you a vacation for two to Thailand, or a nice motorbike. But then, everything has an opportunity cost, and our in-depth review of the iPhone 6s Plus should have everything you need to make the right call.