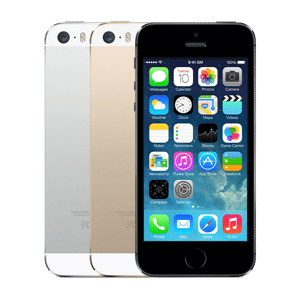 After months and months of rumors and speculations, Apple has finally taken curtains off its next generation iPhone 5S today. And, in true Apple style, It does not disappoints with its capable internals and subtle addition to its externals. Here's our thoughts about the Apple's Forward Thinking smartphone-
Externals: Design and Display
Since the first iPhone, Apple has maintained a trend over the years,i.e., every alternate iPhone will undergo a cosmetic changes, but the guts inside would be definitely upgraded. At the outset, it's all the same yet different as apart from the usual Black (Space Grey) and Silver colors, the iPhone 5S would also be available in Gold color. Another change which remains unnoticed by the naked eyes is actually not only a big change for the iPhone, but whole mobile industry as a whole. For the first time ever, a mobile phone has been equipped with a Fingerprint Sensor, being dubbed as Touch ID by Apple. It will be used for authenticating the users identity to use the phone and also offers one click payment for iTunes content. Interestingly, once saved the device can authenticate multiple fingerprints for authentication (not payments). Thus, your family members will be able to unlock the phone if there fingerprints are saved onto the device. The fingerprints doesn't replace PIN lock security for some apps. The fingerprints are readable in all angles and directions, and hence device authenticates the fingerprint very quickly. The sensor is surrounded by a metallic ring which wakes up the sensor whenever it detects a finger.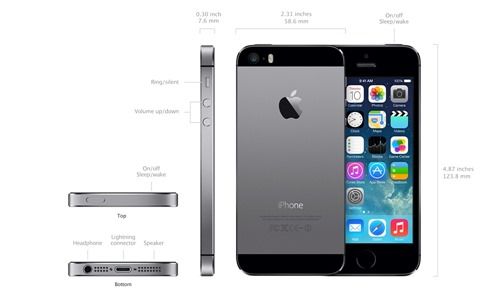 Other elements of the device are exactly same with power, volume buttons, etc. at top and left, whilst headphone jack and charging cum data transfer port at the bottom.
The display of the device is similar to iPhone 5 with a 4 inch IPS screen with a Retina display of 1136 x 640 pixels.
Internals: Processor, Memory and Battery
The iPhone 5S is powered by new Apple A7 chip with support for 64 bit architecture. Imagine the power you're holding in your hands, which till now was only available on computers. iOS 7 has already added this capability and if apps makes use of this architecture, then the device will be offering much better performance. Comparatively, it can be 2x faster than the previous generation in terms of processor and graphics performance. Support of OpenGL ES 3.0 allows the device to enable visual effects giving enjoyable experience while playing games.
The device has a M7 co-processor which tracks the sensor data such as accelerometer, gyroscope, compass, and more. It can also record health and fitness data when used along with fitness bands such as Nike Fuelband.
Although rumors suggested for an 128 GB iPhone, but Apple sticked to 16, 32 and 64 GB variants for the iPhone 5S.
The best part about the new processor is that Apple claims that it can enhance the battery life. The iPhone 5S can run up to 10 hours on 3G and up to 250 hours in standby mode.
Camera
The device sports an 8 MP iSight camera at its back, which is similar to its predecessor, but now it features a larger sensor of 1.5 microns. The aperture of the sensor is also bumped up to f/2.2 resulting in up to 33% light visibility. iPhone 5S also has a dual LED arrangement called as True Tone flash since it intelligently figures out the light requirement of the situation as one of the flash is cooler white, while other is warmer ember.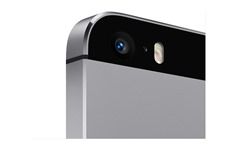 The A7 chip used in iPhone 5S comes with a new Image Signal Processor (ISP) which allows for faster image capture and up to 2x faster autofocus. It also enable Burst Mode, which can capture 10 photos per second, making sure you don't miss any important moment. Once captured, it will suggest you the Best Photo. It also comes with standard options of panorama and electronic image stabilization.
Talking about video capabilities, the camera is able to record Full HD videos. It's also capable of recording slow motion video at 120 fps @ 720p. Once recording is done, the playback is done is normal speed as well as slow-motion speed and if users wants, only a selected portion of video will be slow-motion and rest of it will be normal. The device is also capable of shooting images, while recording video.
Apple has also improved the Camera app with all the options of panorama, square format, video, slo-mo video are just a swipe away each other. Following Instagram's suit, Apple has provided eight filters to spruce the images.
The front camera is similar to its predecessor with 1.2 MP quality and ability to use FaceTime to stay in touch.
Software
The device will be running on iOS 7, whose beta version was unveiled in WWDC in June 2013.
Verdict
With the launch of Apple's iPhone 5S, the battle lines are once again drawn as its up against not just one but several top end Android smartphones. But, it boasts of several features which others simply don't seem to have- Fingerprint sensor and 64 bit processor. How much difference it makes in day to day life is subject to usage, but it does gives it edge over the competitors.
Are you looking forward to buy Apple iPhone 5S once its launched in India?