Apple started promoting iOS 5 at a mass level by arranging Tech Talk World Tour. This tour will take place during November 2011 and January 2012 in nine selected cities. As the theme suggests, this tour is for anyone who is interested in learning iOS 5 from the experts. Apple scheduled all arrangements to the event and the users can start reserving their seats as the space is limited.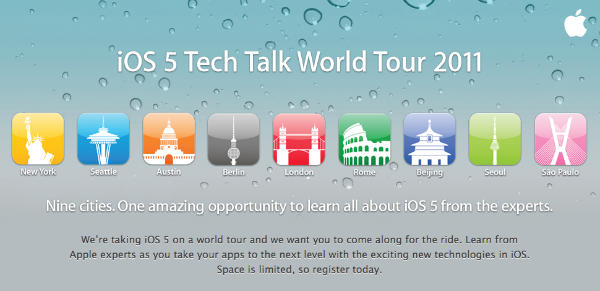 However, there is a condition Apple mentioned in the developer section. "All iOS Developer Program members are eligible to attend. However, space is limited and priority is given to those with an app on the App Store." Here follows the tour schedule –
Berlin, Germany – November 2 at Maritim ProArte Hotel Berlin
London, United Kingdom – November 7 at Kings Place
Rome, Italy – November 9 at Rome Marriott Park Hotel
Beijing, China – December 5 at Renaissance Beijing Capital Hotel
Seoul, South Korea – December 8 at Kintex
São Paolo, Brazil – January 9 at Sheraton São Paulo WTC
New York City, New York – January 13 at Millennium Broadway Hotel Times Square – Full
Seattle, Washington – January 18 at Hilton Seattle Airport and Conference Center
Austin, Texas – January 23 at Austin Convention Center
Apple iOS 5 is the mobile operating system launched on October 12, 2011. This OS is compatible with Apple devices including
Apple iPhone 3GS, Apple iPhone 4, Apple iPhone 4S, Apple iPad, Apple iPad 2, Apple iPod Touch (3rd Generation)
and
Apple iPod Touch (4th Generation)
. The company claims, that
25 million
iDevices users upgraded to iOS 5 in the first few days since the new OS was launched. Adding to that, over 4 million iPhone 4S units (running iOS 5 out of the box) were sold in the first three days of availability.
Amazing !!!