In May, at All things Digital Conference, chief Executive of the US based mobile firm Apple Inc, Tim Cook said that the market for wearable computing is ripe for innovation and hinted that wrist was a natural place for such a device. At that time it was fumed that may be the well known MNC is behind such device but confirmation of the news came right after what Apple did in Tokyo. The MNC has filed a trademark application for "iWatch" in Japan, which was followed by filing the same in Russia, Mexico and Taiwan. Filing for trademark in various countries strongly confirms the guesses that it might be preparing new watch-like device for its consumers. Note that till now, the applications have been filed under categories like computer, watch device, hardware, software etc. Earlier Wall Street Journal too reported that the Apple Inc is in progress for making a device which is sort of watch like device which will sport smartphone functions. After making mobile market a great competition in terms of smartphones, it seems that the flagship companies are behind smart watches too. Recently, Sony also launched Smartwatch 2 which acts as second screen for the Android device and now Apple seems to be following the same path. Future of Smartwatch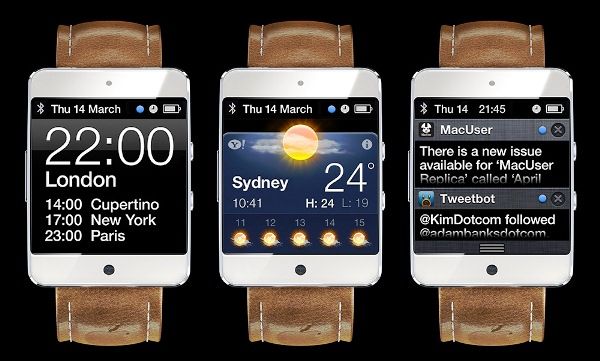 Concept image credit: 9to5Mac
Earlier we saw some mobile manufacturers coming up with wrist watches with mobile functionality. The idea was not very well accepted in the market, probably because using a wrist device as a full fledged mobile phone is not as practical as it seems. You will always need an earpiece and it also puts a limit on a screen size. When Sony came up with the first version of Smartwatch, it was received moderately, if not well. Using your watch as an extension to mobile phone seems feasible and adds to the comfort. Imagine you are on a bike and your mobile intimates you of getting a message. A Smartwatch adds a lot of comfort in such cases. Sony launching a second version reiterates that users are opening up for such device.
When will it be released?
There's no clarity on a timeline related to this product. Apple is slated to launch the upgraded version of iPhone and iPad later this year. But applying for the patents at this time hints that Apple has just started on it. We really doubt if anything of such kind can surface in this year's event. Lets wait for some more hints to make a clear assumptions.