Track 8 is a music application for iOs Devices that provides a better and clean interface for iPad. This application is designed by Ender Labs which provides you a new and better way to organize your music files on your iPad. It supports a metro type design that will show all your albums on device in thumbnails. It also have categories music listing like the History, New Added and New Added Tracks and all. You can also look for songs by choosing the Artist and Album buttons on the application. You can also search for a particular track on your iPad by typing the name of the song or few words about it in the search bar. This app surely provides a very clean interface.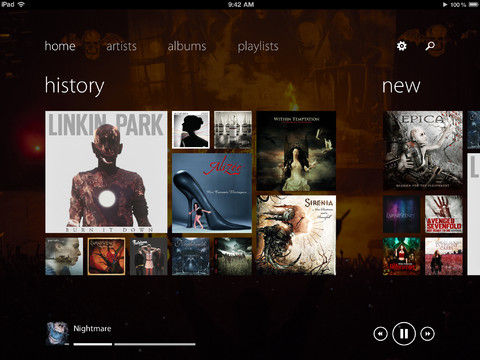 Features of Track 8 Application for iPad –
– This application surely provides a better and clean environment to organize your music files.
– It also shows the back ground images of artists from Last.fm.
– You can easily manage your music files and listen to them with this app.
– It also have customizable user interface.
– Searching for a track is really fast with Track 8 Application for iPad.
– Track 8 application will cost you $1.99 by purchasing from iTunes Store for your Device.
Conclusion
– Track 8 provides a new and clean metro style interface to organize your music library. The interface is really cool with back ground image supporting of Artists and albums. If you are bored of iTunes music organizer then you can go for this application because of its new cool interface.
Our Ratings – 4/5
Download Link – Track 8 iTunes Store.