PhotoAutomat is a free application for iOS and it's very simple photo booth application for iDevices. This application is developed by Stepcase for different iOS devices. There are many applications are out there in iTunes Store like this one including Incredibooth and all, but Stepcase firm has entered in this market with their unique application. Interface of PhotoAutomat is pretty cool and on the main screen of the app you will find preview of photo with different slides to choose from. One of the best things about this app is that Stepcase has its own social network to share photos with others. This social network for sharing photos is called Steply and you can log in with it using the "S" button at the bottom of the app. So with this application you will kind of get a Virtual Photo booth. This is a free app so you can easily try it out without paying anything.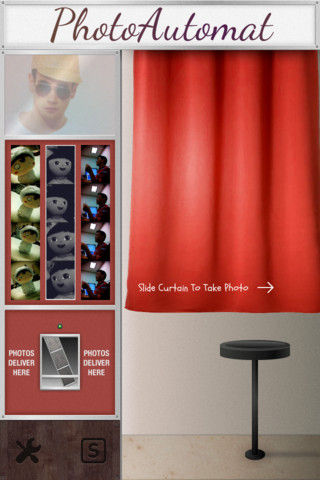 Features of PhotoAutomat app for iOS devices –
– Interface of PhotoAutomat for iOS devices is pretty simple and you will not have any problem operating it.
– You will get a virtual photo booth with this application.
– Steply photo sharing community is also there to share photos.
– You can also share photos on many other social platforms too like Facebook and all.
– There are few problems with the app including time delay in photos when you take photos with different pose.
Conclusion
– PhotoAutomat is a free iOS application to capture photos with different style frames and all. You should try it out for sure because its totally free if you want a virtual photo booth picture taking experience.
Our Ratings – 3.8/5
Download Link – PhotoAutomat iTunes Store.