Listen is a new music listening application for iOS devices. It is a cool application to enjoy music on your iDevice in a new way and it is developed by Daft Logic Studio. If you are bored playing music on your iDevice using the old player then you should totally check this out. You might find this application pretty cool with its user interface. Actually it allows users to access their iDevice's music library using gesture controls like Swipe or pinch.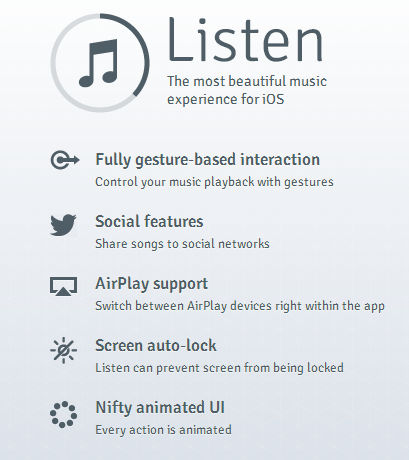 When you are playing a song with this application, just swipe to left or right side and it will skip that song for you. There is an icon in the center of the screen that will tell you about all the controlling options. You might take a little time to understand its controlling but later on it's all fun. So basically it allows you to discover your music library in a whole new way. It will also let your device act like a shuffle music player with cool controlling options.
Features of Listen music application for iOS devices –
User interface of Listen application is really good.
Lets you control your music playback using gesture controls.
Social sharing is also enabled with lots of social platforms.
You can AirPlay your music with simple steps.
You can customize settings in different ways according to your choice.
Currently available on sale for a limited time.
Conclusion –
Listen music application by Daft Logic is having a good concept of controlling the playback. User interface and features are pretty cool. If you are bored with default music player of your device then totally check it out.
Our Ratings – 4/5
Download Link