Did you forget your mobile at home when leaving for the office and now you need to call a client whose contact number you had stored in that mobile itself. Or you suddenly realize that the message containing address for your meeting spot is stored in a mobile which you left behind at your home. Agastya Remote Mobile Access is one such app which could come handy at these situations. It helps you to retrieve some information from your android mobile by sending some text messages to the mobile. The app has been published by Bombil Media who have requested us to provide our expert opinions regarding the app. There's nothing much to play around within the app. While installed and launched for the first time it asks for your email id and a 4-digit security code which you can use later to retrieve the information.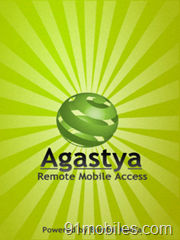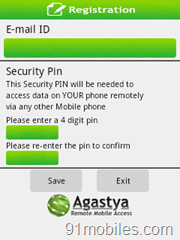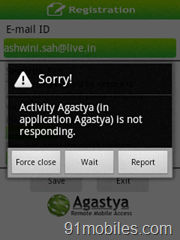 To our surprise, it displayed a force close error as soon I entered the save button and I had no other option than force close it. However, when I launched the app next time, its asked for the security pin, which means the information I entered earlier was recorded successfully. And thankfully it didn't produced an error this time. Once you have successfully entered the information and saved, it takes you to the welcome page which takes you through the tips and tricks to use the application.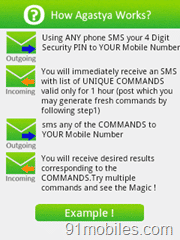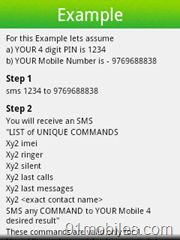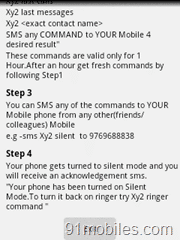 Once you see this screen, means the app is ready to use. Exit the app and you are now good to retrieve the supported information. Whenever you need to retrieve the information, you will need to send the security code from any other mobile and your Android mobile will send back the list of unique commands. Please note that this command is valid for an hour only. To use this feature after an hour you will need to regenerate the commands by following the similar process. Following is the process of retrieving a desired contact number from a remote mobile: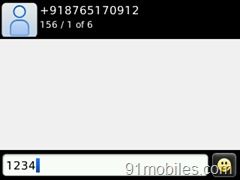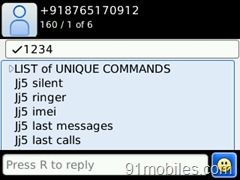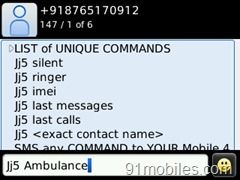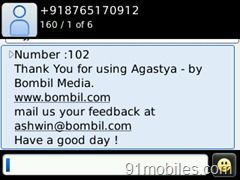 Following is a list of remote actions supported by the app:
Retrieve IMEI
Change Profile (Ringer/Silent)
Retrieve contact number
Retrieve last 5 messages
Retrieve last 5 calls
Limitations/cons:
The Force close bug
To retrieve a contact number, you need to send exact contact name (even case sensitive). It should support a feature where you can retrieve a list of contact details of all approximate matching names
You can retrieve only last 5 SMS. A feature to retrieve message from a specific number or by searching specific word in message body could come more useful
Verdict: The publisher definitely deserves kudos to work out on such an innovative application. Its one of its kind and is very useful. Could come as a lifesaver in various situations. A minor polishing is needed urgently and a ton of features could be added with future upgrades. Should be added in the list of must have apps.
Link