Exciting piece of news for game lovers! Angry Birds"s latest addition is now available for BlackBerry PlayBook Tablet! Angry Birds Space is the latest game from Rovio. Here the birds battle it out in the galaxy against the gravity. The game makes for an interesting play. Angry Birds Space was first released on 21st March and became extremely popular amongst the gamers and got into the App World. Angry Birds Space will now offer players as many as 60 new levels and new game strategy based on space physics. It can be downloaded from App World for $2.99.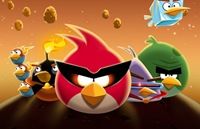 Features of the game are :-
Free and regular updates
Brand new birds
60 new levels
Brand new superpowers
Zero-gravity or gravity defying space adventures
Use of trick shots that use planets' gravity
Bonus levels that are hidden
Beautiful backgrounds
It seems that the crazy bird makers want to make their game more popular and make more money on the way. BlackBerrys are popular amongst todays working class and business owners. To spend a couple of bucks on a popular game like crazy birds will not be that big a deal for them. Crazy Bird makers sure have made a smart move. Owing to the game's popularity it sure would find many takers amongst those using BlackBerry's as well. Play along people!!