Rumors have surfaced on the tech-streets that the first ever Android Smartphone from Vertu is on its way.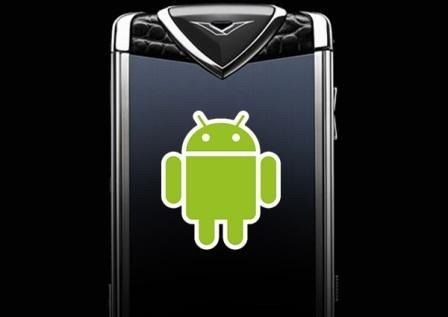 The device that has been speculated to be still under construction by Vertu has been dubbed as the "Constellation Ti". The Ti is expected to arrive in the market with Android 4.0.4 Operating System.
The forthcoming device is expected to exhibit a display resolution of 800 x 480 pixels. The other specifications of the smartphone have been speculated to include a 1.5GHz Processor, NFC and Bluetooth 4.0. Apparently, Vertu Constellation Ti will be fueled with a 1,250mAh Battery.
The images that have been spotted hint towards a classic look for the forthcoming Constellation Ti smartphone from Vertu. The only change that appears to be made to the the device is the inclusion of three physical keys that may be presumed to be the Back, Home and Recent Apps keys for the Android OS.
Further we would like to inform you that the device that is being called the Constellation Ti has got four variants listed at the website of a Russian retailer spblux.ru which includes Titanium Black PVD black Leather, Titanium Black Alligator, Red Gold Mixed Metal and the Titanium Black Leather.
So, if the listing of the variant is true then the customers will be offered a choice of four different options of the Constellation Ti Smartphone from Vertu. However the confirmation of the device may be expected to take place at the Mobile World Congress 2013.