Google Android Operating System is the highly dominated in Smartphone World. It is quoting nearly 50 percent of the smartphone market Worldwide says, Canalys. Amazingly, the Asia-Pacific region are being the largest Android users out there with 39.8 million units shipped. While, 35.0 million units were shipped in Europe, the Middle East and Africa (EMEA), and 32.9 million in the Americas. Around 107.7 million units shipped recorded in the second quarter of 2011 with a 73% growth year on year. Samsung, HTC and LG are leading in their home countries, 85% in South Korea and 71% in Taiwan.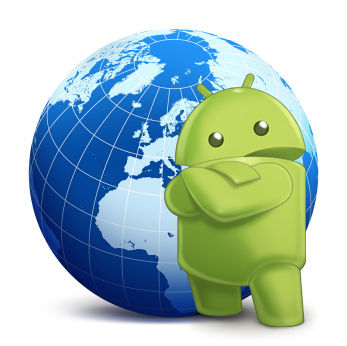 Apple iOS overtakes Nokia's Symbian platform during the second quarter with 20.3 million iPhones shipped and also reaches 19 percent of market share. Now, Apple became the second largest or one among the leading player in the Smartphone World. Chris Jones, Vice president and Principal Analyst, Canalys said, "The iPhone has been a phenomenal success story for Apple and a watershed product for the market. It is an impressive success story, given that Apple has only been in the smart phone market for four years. With the next-generation iPhone anticipated in Q3, it's likely that Apple's position will grow even stronger in the second half of the year." "Samsung has failed to fully capitalize on Nokia's weakened state around the world, as the Finnish company rides out a challenging transitional period, It's the best placed vendor to grow at Nokia's expense, taking advantage of its global scale and channel reach, but it hasn't yet done enough to capitalize on this, particularly in emerging markets," he further added.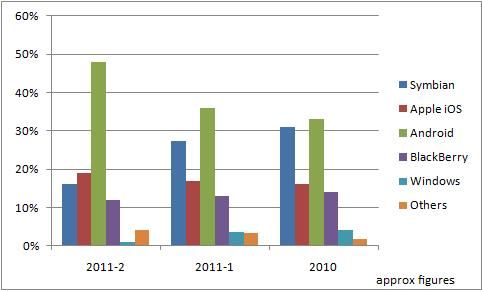 Among the Android Smartphone sellers, Samsung stands as the largest seller with 17.0 million units recorded. The year-on-year growth of 421 percent was helped by significant growth of 355 percent in its bada smart phone shipments. Even the other players are eating away the share Nokia. The company remains dominant in key emerging markets and BRIC countries: Brazil, Russia, India and China. The only problem with the Nokia is the Symbian platform. Hope, the launch on Windows based phone arrests the bleeding decline of share.