Android device manager is a web based service which lets you keep a track of your mobile phone, ring it and wipe away data remotely. These features are like a boon in case your Android device has been misplaced or stolen. Recently Android Device Manager settings was reported to appear on some Android devices and now Google has made the website leave. It clearly hints that the feature will soon be rolled out to other mobile devices as well. However, if you are on a device with Android 2.1 or older, you won't be able to use the features offered by Device Manager.
Android Device Manager Features:
Track your mobile phone: Google allows you to track the location of your mobile phone with a warning that the location may not be accurate. It also suggests that if your phone has been stolen, contact law enforcement officers of your area rather than trying to recover it yourself.
Ring it loudly: Clicking on Ring will make your phone ring on the loudest volume, even if volume has been lowered down or phone is in silent mode.
Wipe away your data: Unfortunately (and sadly) if you are unable to recover your mobile phone, you may chose to delete your data permanently from the mobile phone rather than let it go in wrong hands.
How to use Android Device Manager?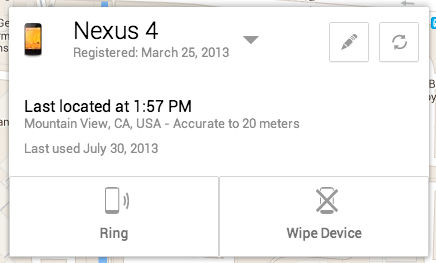 You will need to enable Android Device Manager on your device. Go to settings>Security>Device Administrators and check the box against "Android Device Manager". If the option is not available yet, you will need to wait till Google rolls it out to your device. To use the features, you need to visit
Android Device Manager website
and select your device. You will be greeted with options and instructions.