Android-powered Samsung Transform and Sanyo Zio will be available through Sprint, from October 10. With the customizable Android 2.1operating system, Sanyo Zio features a 3.5-inch WVGA touch-screen, 3.2 MP camera and 30-frame-per-second video record and playback. The handset boasts multiple keyboard options, all with haptic feedback, an accelerometer to rotate between landscape and portrait orientations and an ambient light sensor that automatically adjusts screen brightness to optimize viewing. The easy-to-use trackball also helps users navigate between the features found on Zio, including address book integration with such social apps as Facebook, Twitter and MySpace; GPS functionality and digital compass plus preloaded Google Maps; media player for streaming videos; full HTML Web browser; and a full library of more than 80,000 widgets and applications available from Android Market. Zio also features a pre-loaded Exchange Email application that supports corporate Outlook e-mail, calendar, contacts and tasks, while also supporting ActiveSync and enhanced security features.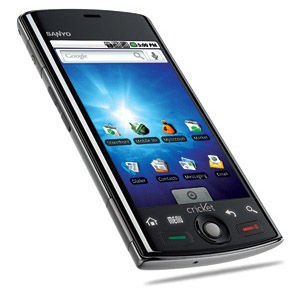 Zio is 0.5 inches thick and weighs only 3.7 ounces, making it one of the thinnest, lightest Android devices on the market, claims the company. The jet-black exterior is trimmed in silver with a soft-touch back that helps ensure that it won't slip out of your hands. With 512MB of internal memory, a 2GB microSD memory card (provided in box) and support for up to 32GB microSDHC cards, Zio can handle even the most robust of applications. Samsung Transform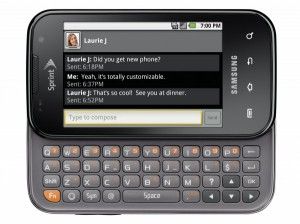 Equipped with the Android 2.1 operating system (but scheduled for an upgrade to 2.2 later this year), Samsung Transform provides access to popular Google mobile services, including Google Search, Google Maps, Gmail and YouTube, and access to more than 80,000 applications available in Android Market. The device features a powerful processor, access to GPS navigation, Stereo Bluetooth wireless technology, Wi-Fi capability and Visual Voicemail. It also features a 2GB micro SD card (preinstalled in the device) and a Music Player with MicroSD card slot to support up to 32GB. The Samsung Transform weighs 5.4 ounces and is available in Black Pearl.