Either with the Holidays or Gifts, Christmas makes everyone happy. But, Apple and Google have another great reason to celebrate the day. With the record-breaking mobile growth in 2011, Christmas evening contributed a big number of smartphone and tablet activations. Santa Claus delivered that many new iOS and Android devices. The market flourished with shiny Galaxy S II, iPhones, iPads, Kindle Fires, and Galaxy Tabs etc. As the research company Flurry anticipated, there's a remarkable growth on Christmas. With a flashback, we can notice that In 2011 Apple's App store is on pace of exceeding 10 Billion downloads, which is a double the cumulative figures of 2008, 09 and 2010. Like wise, the Android market set a record of 10 Billion cumulative downloads for December 2011. On May 2011, the market was ranging 3 billion downloads and within months, this was tripled just-like-that. Based on the Flurry's reports on Christmas day, the diagrams illustrate the number of new iOS and Android devices detected Worldwide. Flurry with a track of around 140,000 apps were able to detect 100 percent new Android and iOS devices activated each day.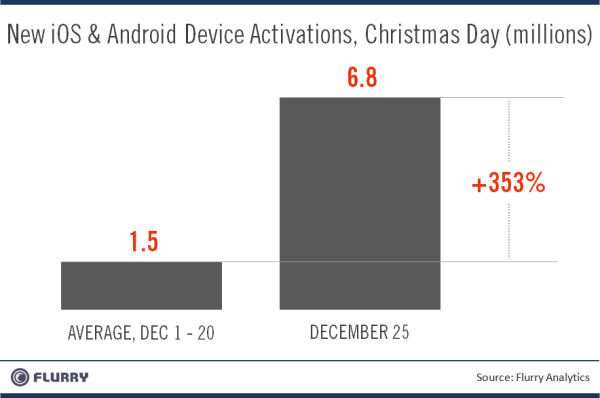 Look at sheer size of new Android and iOS devices activated on the Christmas Day. A tremendous 353 percent growth over the baseline. The average devices activated during December 1 to 20th were 1.5 million and on December 25th this was sky rocketing to 6.8 million activations. These sky-rocketing figures weren't new to the industry. In 2010, the single-day record was 2.8 million device activations, Christmas 2011 grew this by 140 percent. Apparently, the App market flooded with download request and they were more than double on the day. The download volumes increased by 125 percent on Christmas.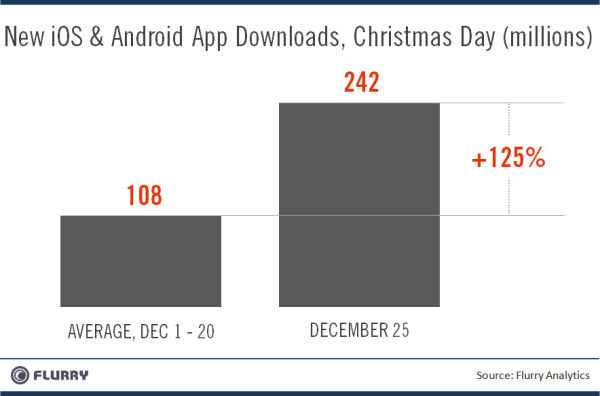 The final chart illustrates the download statistics over a period of 24 hours. The sum of all hours on the blue line (average day using December 1-20) equals 108 million. Starting on the left, at 5 AM, there were 720,000 downloads. Over the baseline "day," the rate of downloads per hour increased, with its peak at 9 PM of over 8 million downloads. The grey area represents the "prime-time" slot of 7 pm – 10 pm. All time zones are normalized, meaning that in our calculations, 7 AM in London is lined up with 7 AM in San Francisco, which is when it appears most people start unwrapping gifts under the tree.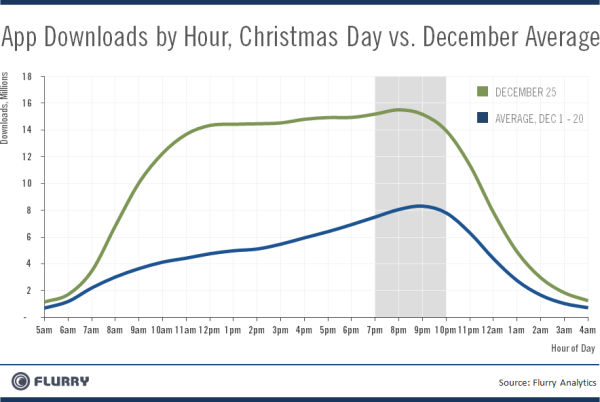 Comparing the Green line (Christmas Day) with Blue line, the green line dominates at every hour of the day. Starting from 8 a.m. till Midnight, there are over twice as many downloads every hour. By 9 a.m. hourly downloads on Christmas exceeding 10 million and 7 p.m. to 9 p.m., hourly exceeds 15 million. Between 11 AM to 11 PM, more than 175 million apps were downloaded. By itself, this half day delivers over 70% more downloads than the entire baseline day. Adding to this, Android Chief Andy Rubin reveals that there were 3.7 million new device activations over Christmas Eve and Christmas Day. So, Android claims the top position from the total of 6.8 million device activations.