"Lollipop could be the best thing to happen to Android so far. Here's why…"
Google is known to add notable new features to Android each time there's a platform refresh, and this is exactly why Android aficionados look forward to receiving update – even if it's a point release that's expected. But it isn't a point release this time – with Android version 5.0, aka Lollipop, Google has gone ahead and overhauled its mobile OS on a massive scale. Not only does it include a complete design revamp, the smorgasbord of new features that have been added just boggle the mind. The latest version is available on the Google Nexus 6 and the Nexus 9 by default, and after a short delay, has also hit the existing range of Nexus devices, including the Nexus 4 and the Nexus 5 smartphones and the Nexus 7 slate too. Other devices such as the Google Play Editions are getting the Lollipop update soon too, as well as those from brands such as Motorola and LG. The Android One range, which came with the promise of speedy platform updates, is expected to get a taste of Lollipop by end 2014 or early 2015 at the very latest. Many other brands like Samsung, HTC, Sony and ASUS have also announced plans to get some of their existing models up to speed with the latest Android build, so there should be a reasonable number of devices running it soon. But what is it about Lollipop that excites us? Here's a look at the key features.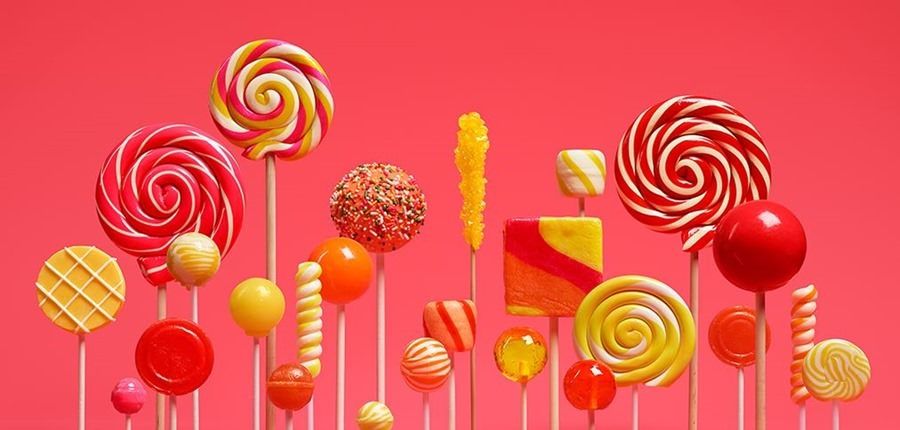 Silky material

First up – the design. Google has adapted a bold new design for the UI on Lollipop, and is calling it the 'Material design'. You don't need Lollipop on your Android device to get a taste of this, since the same design ethos has already been applied to a bunch of Google apps, including Gmail, the Play Store and Maps – and these are available on devices running older builds too. On Lollipop however, Material design brings a look that not only looks good – it's fun to use and includes some nifty animations, shadows and highlights. And these are not just there for visual relief – many of them provide visual feedback when interacted with. Moreover, Lollipop attempts to bring a certain consistency to the UI that wasn't there before, and it's a look that's meant to be uniform across different types of devices in Google's ecosystem – from wearables to TVs.
The overall look uses a minimalistic design with bold colours and cleaner typography that's easier to come to grips with, yet brings a dynamic flow to the interaction that can't be fully described in words – you just need to experience it for yourself. The shadows add a sense of depth, while the animations have a fluidity that doesn't make the interface seem slow at all, unlike a few other animations we've seen on smartphones… on custom skins for example.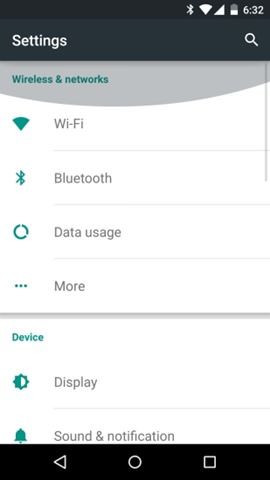 The fluidity we refer to is evident all across – in the way the menus pop out, the way lists and cards for the recent apps scroll, screen transitions, etc. The device settings is a great highlight – consisting of mint green icons on a white background. Tapping on an option initiates a gentle ripple which begins at the point you touched, and then moves horizontally across. When you try and pull down if you're already at the top of the list, you'll see an elastic shadow pop out that follows your finger.
The actual home screen may not be all that different when compared to earlier, except the virtual navigation keys at the bottom that follow a geometrical design theme – a triangle for back, a circle in the middle to access home, and a square on the right for recent apps. Tiny animations highlight your interaction when you tap any of these buttons, and there's a balloon-like effect when launching the app drawer. The icons in the app drawer are now placed on a white background, as against the transparent background before that showed the wallpaper. This gives the app drawer a cleaner look, and the icons look like they're placed on paper. In fact, interacting with real paper is how we'd describe the Android Lollipop experience in a nutshell.
Enter the interface


The drop-down notifications pane has been given a totally new look. Not only that, there's a new way to interact with it too – a single downward swipe reveals the notifications, with a button below to clear them all in one fell swoop. Another swipe brings down the quick settings, with a slider to control screen brightness and toggles for Wi-Fi, Bluetooth, cellular data settings, aeroplane mode, auto screen rotation, location and Cast screen. A handy flashlight has been added to the options too. A two-finger swipe brings down these options directly, without the need to perform two separate swipes. In this mode, the top of the screen also display battery percentage, along with a settings wheel to access device settings. Quite notably, this wheel rolls towards the left as the pane slides down – another great example of the way animations are used.
Then there's the recent apps menu, dubbed 'Overview' in Lollipop. The recent apps appear as a stack of cards that scroll vertically, and stick around even after a device reboot. Notably, even open Chrome tabs appear in this list, making them easier to access. You can choose to switch these off in Chrome settings if you wish though. The same idea extends to other things – the Gmail app for example. If you hit the bold new compose button and then tap Overview, you'll see the new compose window and Gmail as separate cards. While this could be great for multitasking, allowing you to switch between the new email and your main Gmail list easily, you're bound to encounter an unmanageable stack of cards to sift through sooner or later… making it tough to find something specific in a jiffy. Cards (or apps) can be cleared individually of course, but that could be too much of a hassle, and a reboot won't help.
Notify me


Apart from the Material design, possibly the biggest new feature in Android Lollipop is the way notifications are displayed and the way they can be controlled. You may already be aware that Android v5.0 brings with it lockscreen notifications, and while that means you'll have to bid adieu to widgets on the lockscreen, it's much easier to glance through and jump straight to the one that deserves your attention right away. Notifications on the lockscreen can be swiped away individually, and swiping downwards on one reveals more content. If you tap on one, a prompt will appear at the bottom telling you to touch again to open it.
The unlocking mechanism has changed too, and an upward swipe unlocks the device, but if you want to unlock directly into the phone or camera apps, you can do so by sliding horizontally from the respective icons present at the bottom corners. This action isn't apparent immediately, since we found ourselves swiping upwards from the icons in an attempt to unlock into those functions.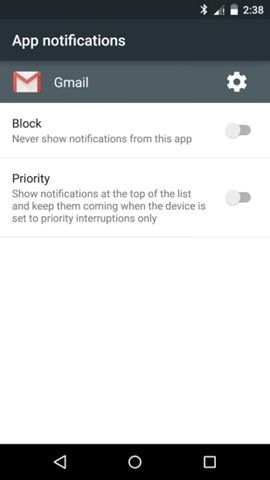 Of course, there'll be many who don't want their notifications to show up on the lockscreen in the interest of privacy, so there's an option to disable these under 'Sound & notification' settings. Not only that, you can even control notifications from specific apps, choosing to disable only those that you don't want alerts from. And for the apps you deem important, you can mark them as priority, and notifications from those ones will appear at the top of the list and will not be suppressed if the device is set to priority interruptions only.
Interruptions is Google's moniker for the Do Not Disturb mode on Lollipop, and the options for this are also available under 'Sound & notification' settings. Here, you can control the notifications that are allowed to 'interrupt' you, choosing to allow all, disable them altogether, or get notified only from those marked priority. There's also an option to receive calls and messages from anyone, only those present in your contacts list or only starred contacts. A scheduled Do Not Disturb (DND) mode is available in the form of an option labelled 'Downtime'.
The DND mode can be accessed quickly by using the volume rocker on the side, which brings up a pane with a slider to control the main ringtone volume – controllable both by touch or the hardware volume rocker itself. The same pane also has buttons to enable the priority interruptions mode or disable all notifications – either indefinitely or for a set duration of time. The time for the latter can be set with the help of '+' and '-' buttons placed alongside, giving you a window of 15 minutes all the way up to eight hours as per your requirements.
Speaking about interruptions – incoming calls don't take over your screen and instead, appear as pop-ups over what you're currently doing without interrupting the task at hand. We've seen this feature on a few custom skins, like the latest version of Samsung's Touchwiz, and it's now baked into Lollipop by default.
Be my guest


In case you need to share your device with someone else for a short period of time, there's a new guest mode baked into the OS. But that's not all. Android 5.0 supports multiple user accounts on both phones and tablets, so each user gets access to his or her own set of apps and personal data. As the admin, you get the privilege of controlling whether new users can use calling and messaging or not – useful when you want to hand over your device to kids. Users can be switched easily using an icon available on the right of the status bar.
However, if you don't want to go through the hassle of setting up a new user account, a 'screen pinning' option allows you to pin a specific app to the screen. This can be enabled under security settings, and then you can head into recent apps (called Overview, remember?) and tap on the pin icon on the most recent one to stick it to the screen. In this mode, only the pinned app or game can be used…. and to exit, you need to press and hold both the back and Overview buttons simultaneously.
Talking about security, yet another great new feature in Lollipop is Smart Lock – letting you mark a device such as a wearable or any other connected accessory as 'trusted'. Once this is done, you won't need to enter your security PIN to unlock your Lollipop device when the trusted accessory is within range.
More power to you


Battery life is one of the most important issues concerning the use of mobile devices – your fancy new phone is as good as a paperweight if it's dead. A new 'Battery saver' is available under battery settings, and can be enabled when you want or set to be automatically activated at five or 15 percent battery levels. In essence, it limits performance and other aspects like vibration and background data to prolong battery life. Other battery-related features in Lollipop include an indication of available usage time under battery settings, as well as an idea about the remaining time to charge the device fully on the lockscreen when connected to the charger.
Behind the scenes


There's lots of stuff that goes on behind the scenes, and the latest mobile refresh boasts a slew of enhancements to improve performance. First up in the baked in 64-bit support, but to use it fully, not only do you need the chipset and hardware in your device to support 64-bit architecture, but the apps also have to be designed to take advantage of this. Then there's the new Android Runtime (ART), which was optional in KitKat but is now the default in Lollipop. Without going into technical details, ART promises a significant increase in performance coupled with more conservative use of the battery – effectively killing two big birds with one stone.
The above is just the tip of the proverbial iceberg when it comes to the mind-numbing range of new features Google has crammed into Lollipop. If you're a photo fanatic, you might appreciate the new support for RAW images… although you might be hard pressed to find a camera app that would let you shoot in this mode. Then there's support for USB audio – useful for hooking up your Android device to high-end audio equipment. There's something there for everyone. With 5.0 Lollipop, Google has breathed new life into your Android phone or tablet – and if you don't currently use a device which is due to get this update, then you're simply missing out. It may not be perfect, but we'd go so far as to say that there's enough sweetness in this Lollipop to even consider switching to an eligible device – it's that powerful. But more than that, it's also a great indication of how well Google's mobile platform has evolved… not just from a design point of view, but also from the usability perspective and by bringing in features that could be highly useful for just about anyone.