"If you want to convert your telly to a smart TV without burning a hole in your pocket, the Amkette EvoTV Media Centre comes across as a good choice"
Streaming boxes are a rage in the west, where people simply hook-up a box or a dongle to their TVs and get the freedom to consume media via regular cable or internet. However, here in India, we're still accustomed to watching only the available channels through cable or DTH. There are USB ports available for media playback on TVs these days too, but the format support is usually very limited. Indian manufacturer Amkette hopes to change that with its EvoTV. Launched first in 2012, the company has recently launched its successor, featuring a totally revamped interface. Dubbed as the EvoTV Media Center, the brand is touting the fact that its little box is poised to be your one-stop entertainment center. So, is Amkette successful in achieving this objective? Let's find out in our comprehensive review of the Amkette EvoTV MC.
Ready to use out of the box
The vendor has ensured that the customers can start using their EvoTV instantly with their televisions. The packaging comes with all the essential wires and cables along with the EvoTV box and its wireless controller. So, if your TV sports an HDMI port, then you can simply connect the box with the included HDMI cable.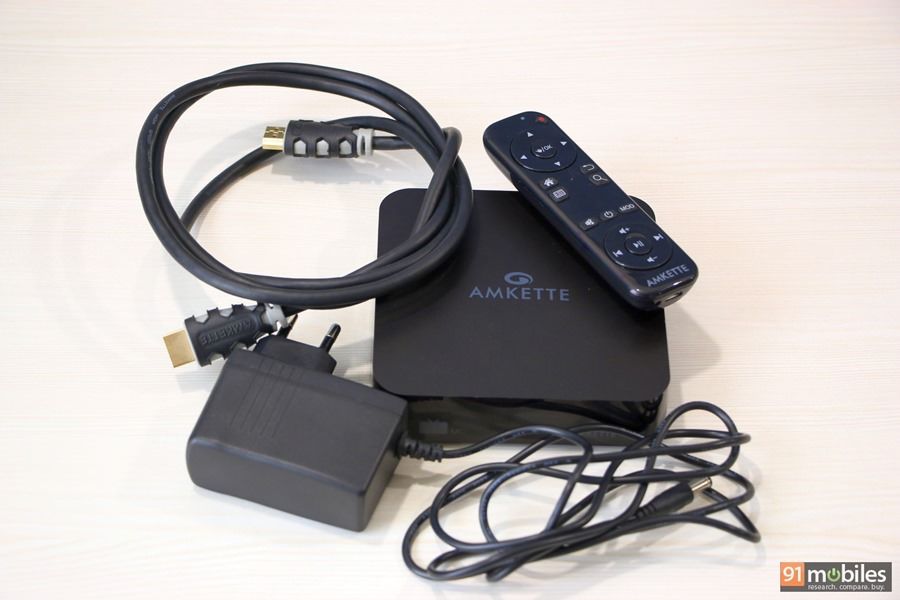 Don't worry if your TV doesn't have an HDMI port, as an audio-video cable is also provided. However, this method might not let you enjoy all the functionalities of the EvoTV.
Once connected with your TV, all you need is to supply power to the EvoTV and you're ready to enjoy your favourite movies or that funny YouTube video (make sure you have popcorn nearby to munch).
A simple-looking portable box with healthy innards
It goes without saying that the EvoTV's box is where all the action takes place. The device is fairly compact with dimensions of 26 x 118 x 118mm. It tips the scales at 277 grams, which is pretty good considering the box will mostly be fixed at one position alongside your television.
The front of the device has an LED indicating its status, while the right side sports three USB 2.0 ports and an SD card slot. The rear of the Amkette EvoTV is chock-a-block with a number of ports including another USB port, SPDIF and AV jacks, a full-size HDMI port, an Ethernet port and a power socket. There are a few air vents on the sides, whereas the left side is completely barren.
Running the show is an ARM Cortex-A9 chipset clocked at 1GHz supported by a Mali 400 graphics processor. A gigabyte of DDRIII RAM is also available for smoothly running your media and giving you lag-free multitasking. In the storage department, the box has a 4GB internal storage with about 2.2GB accessible to users.
The magic lies in the remote controller
The Amkette EvoTV's box is useless without its other half – the remote controller. Don't dismiss it as just a normal remote, as it supports some interesting functionalities and its capabilities go beyond the basics.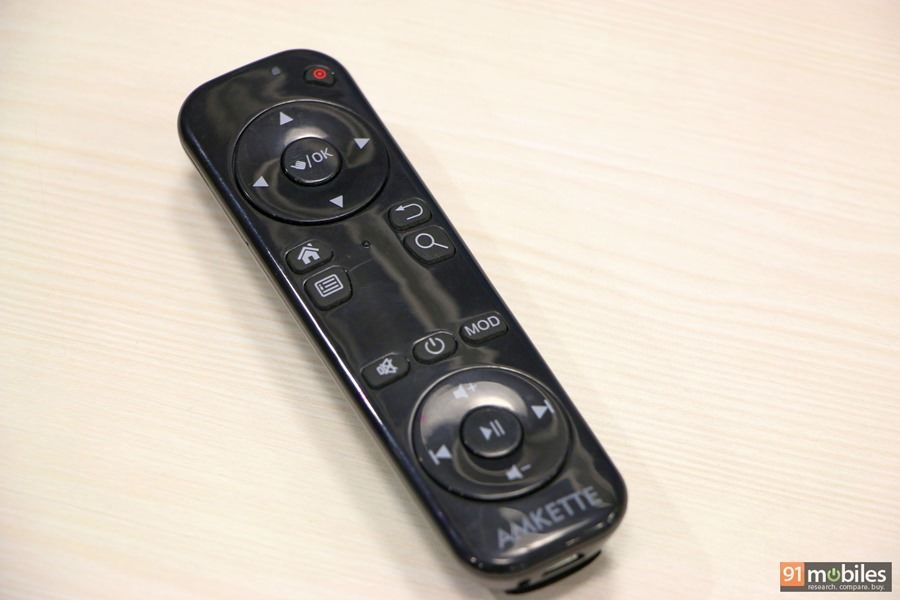 It's a sleek remote with a curvy shape and is encased in a glossy plastic body. The controls on the remote are distinct from the usual television remotes with no sign of any numeric keys. At the very top, the remote features a button to turn it on or off indicated by an LED. Below that, an enter button (OK) is located, surrounded by a four-way key that helps in navigation. Below these, you can see a few familiar icons since they are available on conventional Android devices as well. These four keys let you access home, the options menu, back and search functions.
A row of keys are available for muting the volume, powering the EvoTV on or off, and MOD gives you option to turn off the remote temporarily. The last set of keys let you control media playback and adjust volume.
Coming to the sides of the remote, the bottom part is home to a micro-USB port for charging its internal battery. We really appreciate this, since you can charge the EvoTV remote with your regular mobile charger and it does away with the AA or AAA batteries you usually need to keep in stock, so as to replace TV remote's battery when required. At the top, there's an IR sensor. The rear of the remote comes with a touch sensor which needs your finger touching it when you want the remote to act as a wireless pointer for navigating the interface. Placing your finger on this sensor and and moving the remote in the air basically controls an onscreen pointer, and you can then use the other available keys to interact with the EvoTV's interface. Otherwise, you can make use of the arrow keys to navigate to a certain menu too.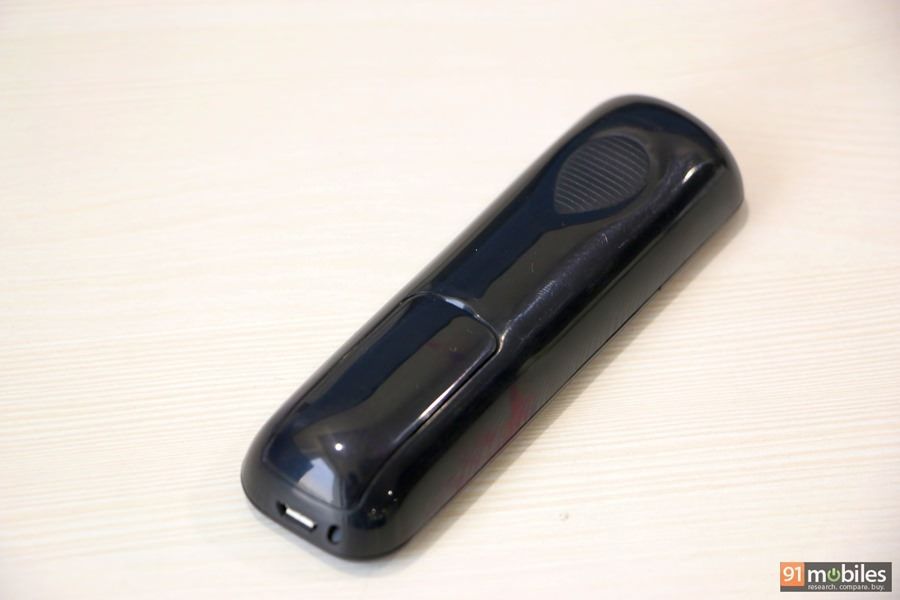 The back of the remote also gets a removable cover, which is similar to the usual remotes. In the case of the EvoTV though, the cover houses a reset button. Interestingly, while there's an IR sensor in the remote, it actually communicates with the box via radio frequency.
Let's talk about the usability aspect. It takes a few minutes to get used to the remote and controlling the onscreen pointer, since you have to move your hand in the direction you want to click. The brand is referring to this as Air Mouse. We noticed a slight delay in the action after pressing the button. The problem becomes bigger when you want to type something as you need to navigate across almost half the screen on the virtual keyboard.
Android takes care of the software side of things
Complementing the capable hardware is Android, which jumps into action as soon as the device starts. The start screen features a tile-based UI, called EvoView, making full use of the large TV screen at its disposal and also easier to access by the user. The interface is neatly stacked into various categories such as Video, Music, My Media, Tools, Others and All apps. These are essentially folders with all the related apps available together. A row at the bottom also has some useful media-related apps. You'll also find the Android notification panel towards the bottom, along with Wi-Fi / Ethernet status and time. Just above the notification bar is a panel that shows new headlines as a ticker, aggregating them from various news sources such as NDTV and Cricinfo. It's really a thoughtful addition, as users don't need to go anywhere just to check out the day's important news.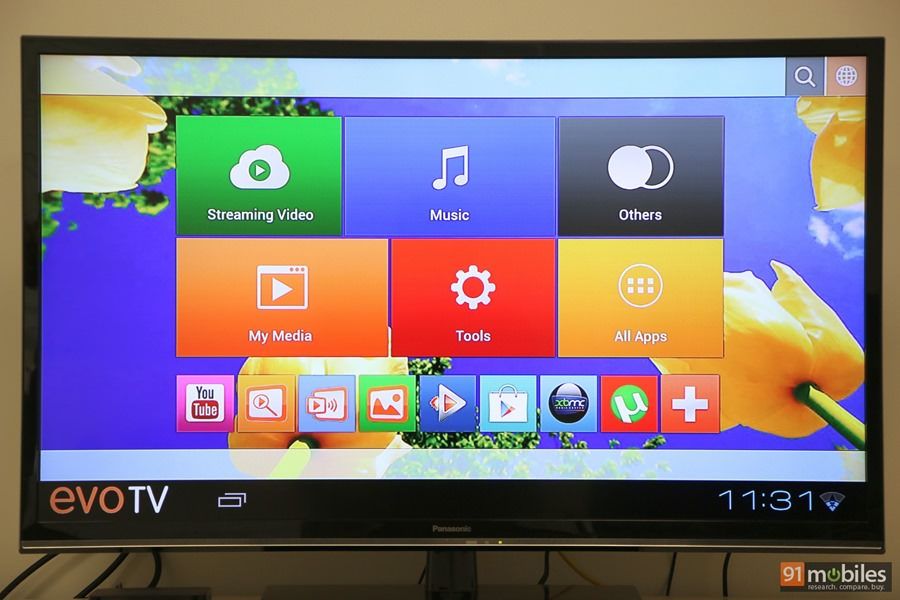 The box comes preinstalled with a number of apps so that you don't have to hunt on your own. These include media apps like XBMC and MX Player, audio and video streaming services such as Revision3, TED, TuneIn Radio and YouTube. XBMC is great option for power users as it offers extensibility via different plug-ins and can also be controlled by your Android smartphone via an app. There are also Indian streaming services like Box, Bigflix, Saavn, Sony LIV and Spuul on offer. Apart from media-centric apps, the EvoTV also comes preloaded with a browser, uTorrent and more.
Of course, Android bestows upon you the power of Google's Play Store and its vast library of apps and games. This allows you to install almost anything on the Amkette EvoTV, even Android games. The EvoTV MC's remote doesn't include a motion sensor, so you can't play games that offer tilt controls – that privilege is reserved for another model, the EvoTV AC, which is priced slightly higher. Even while playing basic games like Candy Crush Saga, the experience isn't really smooth since you need to control the pointer accurately. The lag doesn't help, either.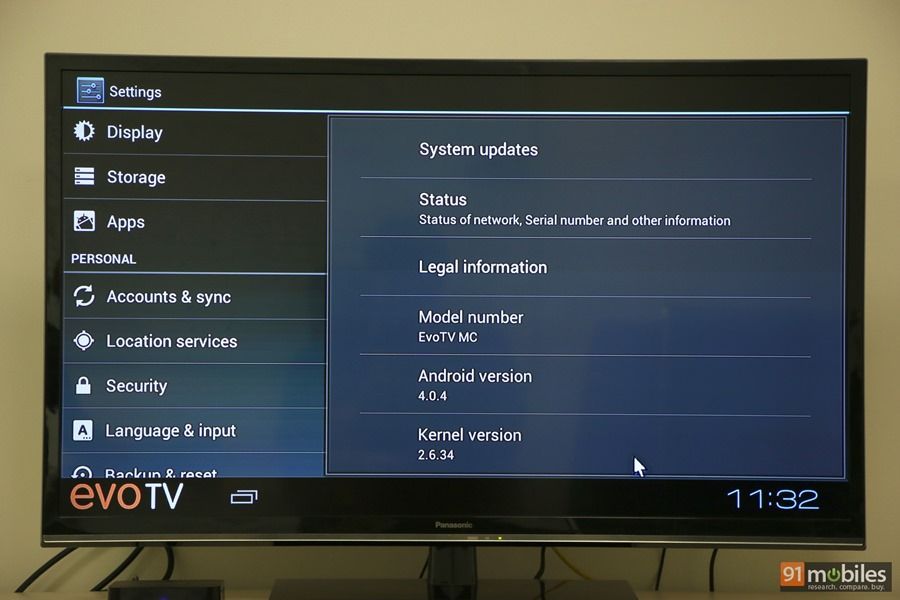 The device is based on the dated Android 4.0.4 Ice Cream Sandwich. However, it won't make much of a difference even if it ran on the latest version, since the usability offered by the EvoTV is different from our Android-based mobile devices.
Comfortable with all your entertainment needs
The Amkette EvoTV accepts all kind of storage media ranging from a USB drive or SD card, to a 1TB external HDD. However, it takes considerable time for the external HDD to be detected and sometimes it might not be even recognised. You can also stream the content from your smartphone or a NAS (network associated storage) with the use of DLNA. However, in our testing, the connection was a hit-and-miss affair.
The true power of the EvoTV can be seen while playing back any kind of video. The box renders all kind of video formats flawlessly without any lag, even while you're seeking to any particular point in the video. We tried playing different formats like avi, mkv, mp4 with Blu-ray encoding and full HD ones too, and the device handled them smoothly. The same goes for all kind of audio formats. However, for some reason, we weren't able to use MX Player to play these files, though the default video player worked flawlessly. Even XBMC didn't work all the time, but when it did, it offered multiple options to enhance the playback.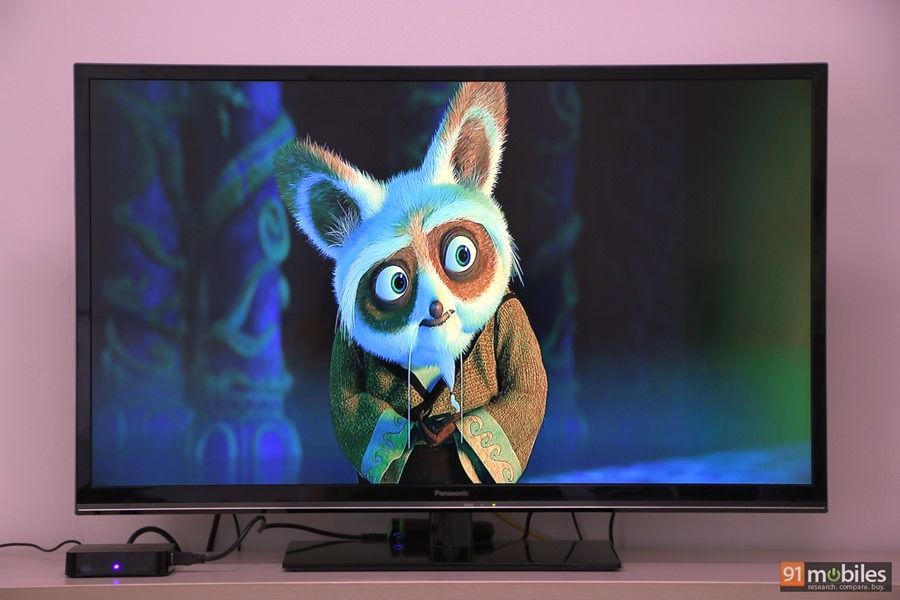 Of course, playing media offline is not the only use-case of the device and you can get your dose of entertainment with the help of various streaming services, though this depends on the speed of your internet connection. The company has tried to use a large-screen interface for some of these apps, especially YouTube which is different from the regular interface we see on our browsers. Sadly, in all these cases, you have to type what you're looking for and as highlighted earlier, typing is not a great affair with the wireless remote.
To overcome this problem, we paired a wireless keyboard with the box, and this turned out to be quite useful. The typing became very easier and what's more, since the connection was wireless, we were easily able to control it from distance. With this implementation, the Amkette EvoTV becomes similar to an HTPC (home theater personal computer) allowing you to watch media online or offline, visit websites, use email and even download torrents.
The box also has a camera app, that can be used in conjunction with an external webcam allowing you to use it for making Skype calls.
Verdict
Giving a conclusive verdict on these kinds of products isn't easy, because it all depends upon individual requirements. If you're an entertainment junkie and don't want to spend too much in buying the latest-gen smart TV with internet connectivity, then the Amkette's offering comes across as a cheaper way to achieve the same. In fact, it presents to you much more options because of Android.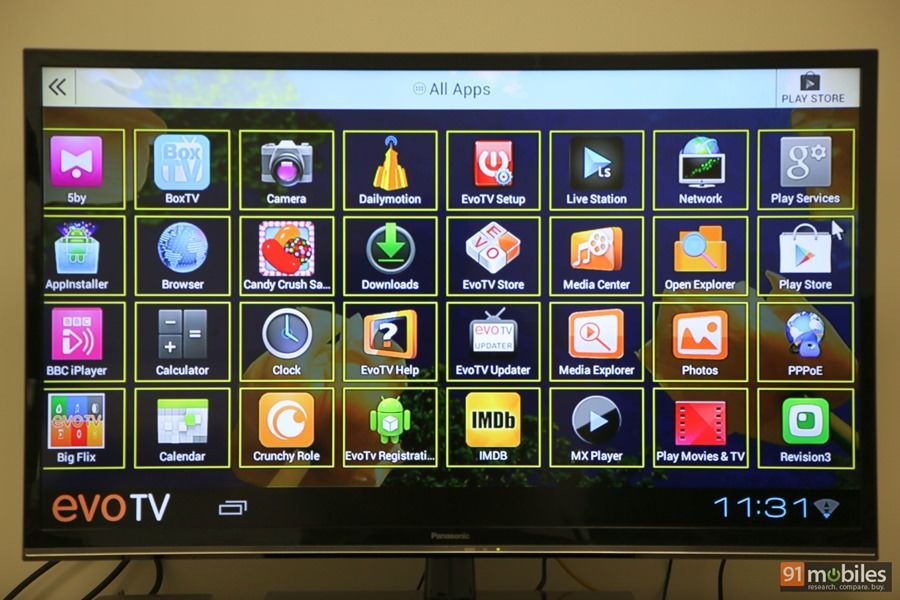 Even if you aren't a fan of capabilities provided by smart TVs, the wide range of formats supported by the Amkette EvoTV could be highly useful. Especially since USB ports on TVs have limited format support. The EvoTV also supports 7.1 audio, so you can also use this to enjoy better sound output.
But that doesn't mean that the Amkette EvoTV is perfect. We'd have preferred a better way of inputting text, and a smoother, more accurate control over the pointer. In that respect, its sibling, the EvoTV AC (Android Centre) scores as it comes with a motion-based universal remote that also supports voice input. We also would have appreciated if the device supported wireless connectivity with other devices, acting as a media server for other devices to let them access external storage connected to the EvoTV.
In terms of the competition, Amkette has a big advantage as there aren't too many options in this segment. Though there are a couple of devices like Western Digital's WD TV, Xtreamer etc., but they aren't customisable and thus offer nothing much other than media playback and a few streaming services. There are also some Chinese devices, but even they don't match the feature set of the EvoTV MC. Moreover, the brand has priced the box affordably, making it a good buy as an all-in-one media center, infusing smartness into your existing telly with the power of Android.
Price: Rs 5,500
Editor's rating: 7 / 10
Pros
Range of connectivity options
Runs Android, making it fully customisable
A host of features
Extensive format support
Cons
Takes time getting used to the remote controller
Difficult to play games
Specs at a glance
| | |
| --- | --- |
| Size | 26 x 118 x 118mm |
| Weight | 277 grams |
| Power input | 12V, 1.5A |
| Processor | ARM Cortex-A9 |
| Graphics processor | Mail 400 |
| RAM | 1GB DDR III |
| Internal memory | 4GB |
| USB ports | 4 x USB 2.0 |
| Card reader | full-sized SD card |
| Connectivity | Wi-Fi, Ethernet |
| Operating system | Android 4.0.4 Ice Cream Sandwich |
| Air Mouse (Remote) | 2.4GHz RF, touch sensor at the back, 10m range, 350mAh Li-ion battery rechargeable via microUSB |