Amazon, the e-commerce giant in US and the global leader on online shopping and retailing is reportedly working on the next version of Kindle Fire. The good news, if reports are to be believed, is that Amazon is working on a 10-inch Quad Core tablet. Moreover, the new version of the Kindle Fire that they are working on will come with more premium materials which mean some expensive metal casing. There are still rumors on this. But what has been confirmed by BGR is that Amazon has started its work in the 10-inch tablet. According to rumors that are going around in the tech circle, the tablet will come with a quad-core processor and a higher screen quality then the original and previous version of fire.
The 10-inch tablet is not going to replace the previous 7-inch Fire. In fact, once the new version is launched, the price of the 7-inch tablet will be cut down to $150 and the new one will be slated at a price tag of $199. Some features if this new kindle fire includes – a brand new metal casing on the device's back, front-facing camera, microUSB, HDMIout port and all these comes without buttons or touch screen. Reportedly, BGR has also mentioned in their reports that the new 10-inch Kindle Fire are 'thinner versions of the iPad'. If that becomes true in terms of design, look and features, Apple and Amazon may virtually enter into a patent war.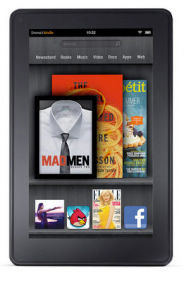 Amazon has been a world giant when it comes to online retailing. But over the past few years, with the launch of kindle it had made its present felt in the electronic device market as well. Now, with a new version on Kindle Fire which was already so popular among people, the war is all out in the open among the giants of the world.