Jeff Bezos unveiled to the world, a super-affordable android-tablet-cum-ebook-reader called Amazon Kindle Fire at just $199. The product will be released on November 15,2011. The product is sold by Amazon Digital Services and ships within United states ONLY. There has been no official confirmation about the worldwide availability from Amazon yet. When no one really knows the product availability date, one of the well known shopping portal has placed a pre-order page for Amazon Kindle Fire and puts up a price tag of Rs. 15,299 and accepts pre-order for the same! On surface, it looks like the website is trying to get hold of some kindle fires from US and sell it a 50% premium in India. But there seems to be a need too. It allows a discerning Indian customer to buy the technology that will not be available in India for quite some time!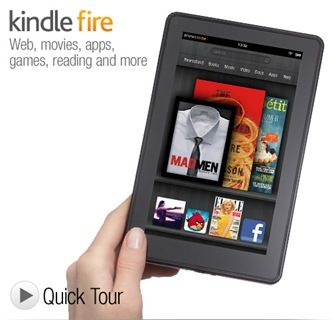 Amazon Kindle Fire comes with a dual-core processor, 7 inch capacitive touchscreen display with a resolution of 1024×600 pixels. The connectivity options include Wi-Fi and micro-USB 2.0. Kindle Fire ships with 8GB internal storage. Unfortunately, there is no slot for expandable memory! You are limited to the 8GB storage provided. However, Amazon allows you to overcome the limitation through the FREE Online cloud storage [UNLIMITED]. Amazon Kindle Fire would also ship with Amazon SILK browser – that allows ultra-fast web browsing; Thanks to the vast cloud infrastructure and predictive caching techniques that Amazon employs. Amazon kindle fire does not contain any camera and will not have access to google android official marketplace. Instead, Amazon kindle fire will have to access to Amazon's own appstore. The real strength of the tablet lies in the vast array of content that Amazon offers you.
Over 18 million movies, TV shows, songs, magazines and e-books.
Over thousands of Android Apps.
Amazon prime members enjoy special privilege – Unlimited instant streaming of over 10,000 popular movies and TV Shows.
Amazon Whispersync allows you to wirelessly sync the content across your kindle devices, Personal computers, Macs, 300 compatible Televisions, blu-ray players and more.
Amazon Kindle Official website