"Amazon Fire TV is priced on par with with competing streaming devices, but is significantly cheaper than dedicated gaming consoles"
After dabbling in eBook readers and
tablets
, online retail giant Amazon is entering into an entirely new segment. However, it's not a phone as many rumours suggested, but a set-top device not very different from the likes of Apple TV, Roku and
Google's Chromecast
. Tagged as the Fire TV, it also offers gaming capabilities when purchased with an optional gamepad, thus becoming a cross between a streaming device and dedicated gaming console such as the
Xbox One
and
PlayStation 4
.

Don't be fooled by its small form factor and 17.5mm thickness, it's a powerhouse from within. The Fire TV is powered by a quad-core processor paired with a 2 gigs of RAM and a dedicated Adreno 320 graphics processor, ensuring smooth playback. It offers 8GB of onboard storage, and similar to Kindle Fire tablets, runs Fire OS, a customised Android version. That makes the device is about three times more powerful than other streaming devices, though it's still not as powerful as gaming consoles. Connectivity-wise, it supports the latest MIMO chip offering dual-band, dual-antenna Wi-Fi.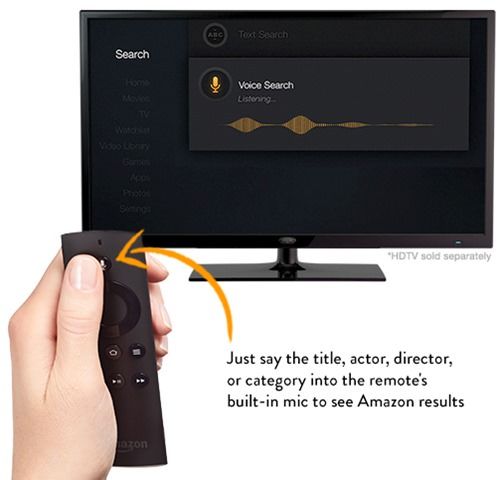 Similar to the Kindle Fire tablets, the device runs customised Android version called Fire OS and on top of it, Amazon has also added a slew of software smartness. A feature called
ASAP
(Advanced Streaming and Prediction) pre-loads videos based on the content you like to watch, so the more you use it, more intelligent it will get. The Bluetooth remote control has a built-in microphone allowing you to quickly do a voice search for a TV show or movie you want to watch, which is much better than typing your query one letter at a time. The Fire TV also gives you the ability to create a slideshow of your pictures or watch personal videos. The
X-Ray
feature provides information about any movie, TV show or music being played including the cast, trivia and more. Similar to Kindle Fire tablets, the device offers
FreeTime
, giving parental controls to users to set content and time-based restrictions for their kids.
WhisperSync
synchronises the content across all devices so that you can start from where you left off, even if you're watching it on the mobile app. The device also boasts of gaming capabilities with popular games such as
Minecraft
,
Riptide GP2
,
The Walking Dead
,
Asphalt 8
and more already on offer. The games can be played using the Fire TV remote itself or the app on your smartphone or tablet. For a better and more immersive experience, you can also opt to buy Fire gaming controller.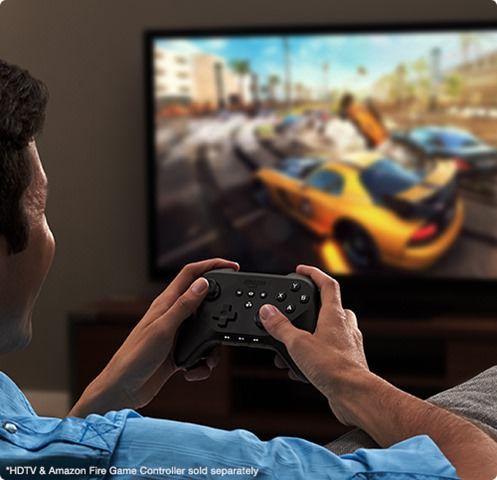 The best part about the device is that it offers users the ability to watch content from multiple sources (subscription required for some). Amazon's own
Prime Instant Video
,
Netflix
,
Hulu Plus
and
VEVO
are some of the services on offer. The company has also promised to bring more content partnerships in future. The Fire TV can also be used to stream music from websites like
Pandora
,
TuneIn Radio
,
iHeartRadio
, etc. Amazon has followed its strategy of aggressive pricing for the Fire TV as well. It's priced at $99, which is on par with other streaming devices (though Chromecast is an exception at $35), but significantly lower than gaming devices. The game controller carries a price tag of $39.99. The device is up for sale in USA, however there's no word about whether it will be launched in other parts of the world.