Alcatel has Showcased a New Smartphone at CES 2013 naming as Alcatel Authority. Its an attractive smartphone loaded with a fast processor and a large nice touchscreen.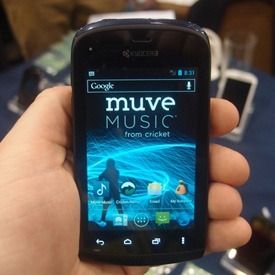 This a slim, stylish and good looking Android Smartphone, although its specifications are not as appealing. It gives a hints that this phone will be placed in mid range segment of smartphones.
The Alcatel Authority sports a 4.3-inch, 800 x 480 pixel touchscreen and beneath, it is powered by a 1.4GHz single-core processor and runs on Android 2.3 Gingerbread OS. This OS is a bit outdated now, however there are chances that one can get it updated in future if it is available. But currently its good for those who just want an Android Smartphone.
It boasts a 5 megapixel camera on the rear, and a VGA camera on the front for video calls.
The Alcatel Authority features standard connectivity features and you can use this phone as a mobile hotspot and share your internet connection with up to 5 devices. This phone also features DLNA sharing & Muve music.The Alcatel Authority will be available from January 20 with a price tag of $249.99.
Alcatel also showcased this phone with its Kyocera Hydra, which is powered by a 1GHz Qualcomm Snapdragon MSM8655 processor and boasts a 3.2 Megapixel camera. It runs Android 4.0.4 Ice Cream Sandwich.This phone also comes with IPX5 waterproofing, which saves the phone from rain and water splashes.