"The Airtel pocket TV app is a great little app to watch your favorite shows and TV content on the move, though it only works for digital TV subscribers"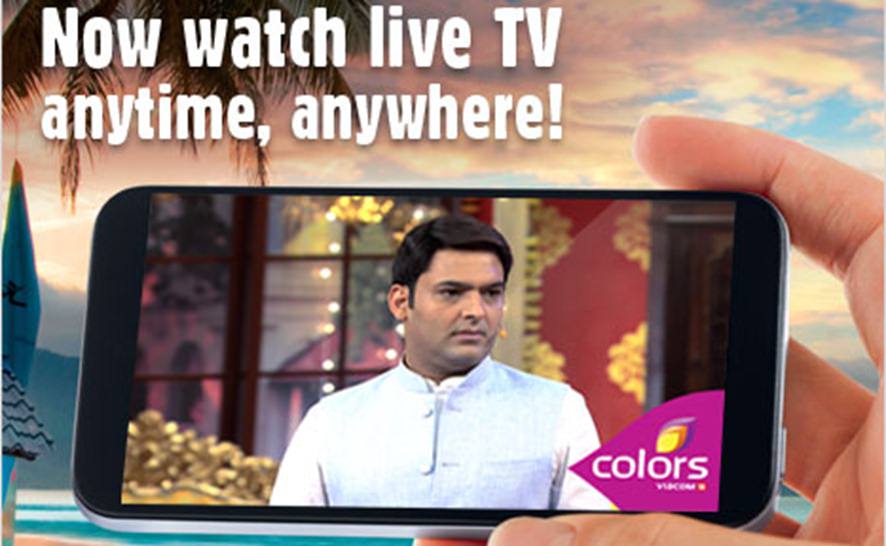 When it comes to TV applications for smartphones, there are quite a few solutions available for both Android and iOS based devices. Having a mobile TV app on your smartphone allows you to access TV-related content and even on-demand content while on the move. All this makes such a solution a must have, especially if you are an entertainment buff. Telecom service provider Airtel has its very own solution to offer in this domain as well, called the Airtel Pocket TV. The Pocket TV application is a noteworthy effort by the brand as an extension to Airtel Digital TV services, by offering both live and recorded shows to subscribers for a price of Rs 60 per month, which includes access to over 150 channels. Let's find out how well it fares.
Installation and look and feel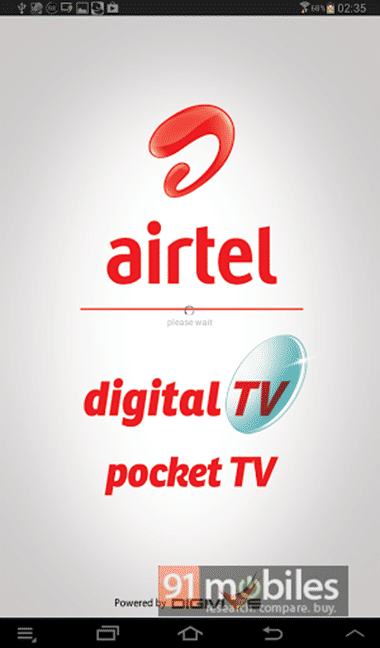 First things first, the app has been made available for both the Android as well as iOS users that takes care of the availability part of it. It has a download size of under 10MB, so even if you have an average smartphone, the app should easily install on your device and post that, all you need is a Wi-Fi or a 3G connection to stream content.
The installation and download takes up anywhere from two to 10 minutes depending on your internet connection. Post the installation, the app can be easily accessed from the device's app drawer. Note that a fast internet connection is required for getting a steady video stream.
In terms of the accessibility, the Airtel Pocket TV app has a simple and uncomplicated layout, which makes accessing the variety of content available through the app easier and very efficient. The layout is very neat and the content has been clearly labeled for fast access.
It's not just an app
The app is the extension of the Airtel Digital TV service and lets its customers access TV content on the move by paying a small monthly fee, Rs 60 to be precise.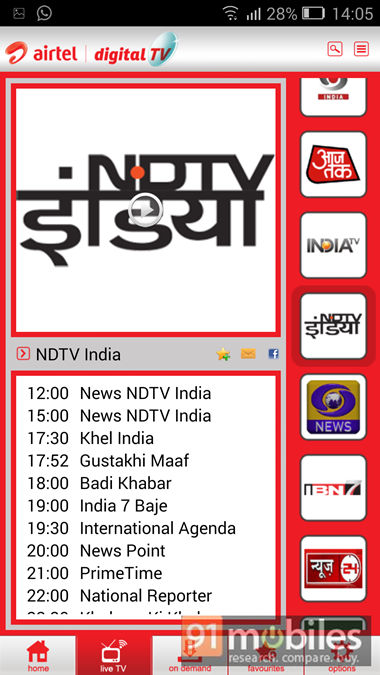 The application offers a bouquet of live channels along with on-demand content that is popular among television and internet users across the country. In terms of live TV channels, the app offers streaming from 150+ TV channels, and in addition to that, users can access on-demand content from 13 channels. This mostly takes care of the popular TV channels, though some users might not be happy with the list offered through this service. For instance, if you are big fan of Discovery Turbo, then you might want to give this app a miss as the channel is not on the catalogue yet, but if you are looking for channels like Colors or NDTV Good Times, then you should definitely have it in your pocket.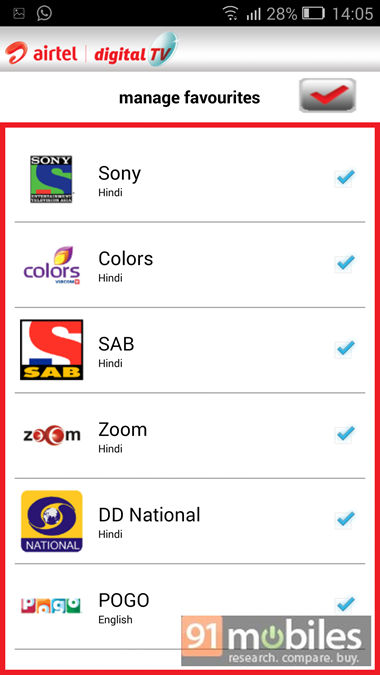 Digivive backs the application, being India's leading mobile TV content provider, and the app is more or less similar to the one that Digivive has to its name under the NexGtv brand. In addition to being able to offer a large variety as far as mobile TV goes, Digivive also offers a bandwidth-aware system of video streaming. With this system, the user's video stream is optimised as per the available bandwidth. Simply put, if you have higher internet speeds at your disposal, your video quality will automatically at a higher resolution, but if you internet speeds are slow, the video stream will shift to low-quality automatically to maintain a steady stream of content.
And yes, there is a cost associated with all this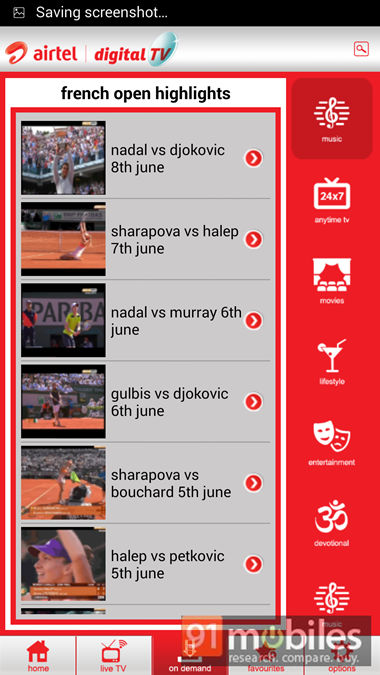 While the Airtel Pocket TV app has been made available free of cost, there are charges associated with its usage. However, before we delve into the cost and its benefits, we have to point your attention to the fact that the Airtel Pocket TV app offers services only to users who have subscribed to Airtel Digital TV. The app requires authentication of the customer ID that the users get after subscribing to Digital TV and only after entering that ID will the application allow users to access content.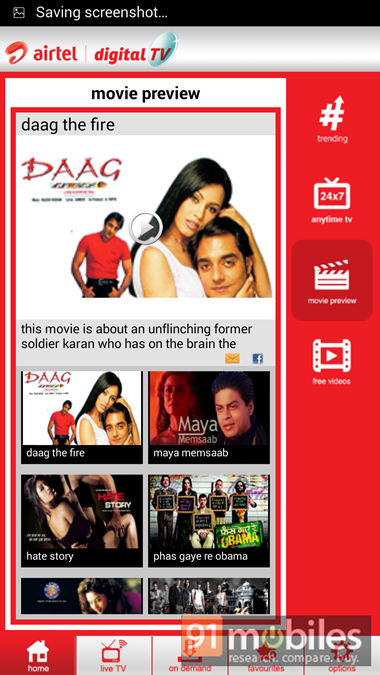 If you are thinking that you can enter some other person's customer ID, let's say your friend's, to enable service on your device, the app will not allow you to do that as the authentication token needs to be sent from the registered mobile number and post that the service is enabled.
Ultimately…
Using the Airtel Pocket TV app cost about Rs 60 per month in addition to what you pay for subscribing to Airtel Digital TV. However, having access to TV content on the move sounds like a great option, especially when 3G data charges in the country are not that expensive now and most of us have access to wireless broadband at our homes and offices.
While app is only available to Airtel Digital TV customers, we think it should also offer some content to other users. In terms of its monthly subscription, which as per the company website is an introductory price, it tips towards the higher side.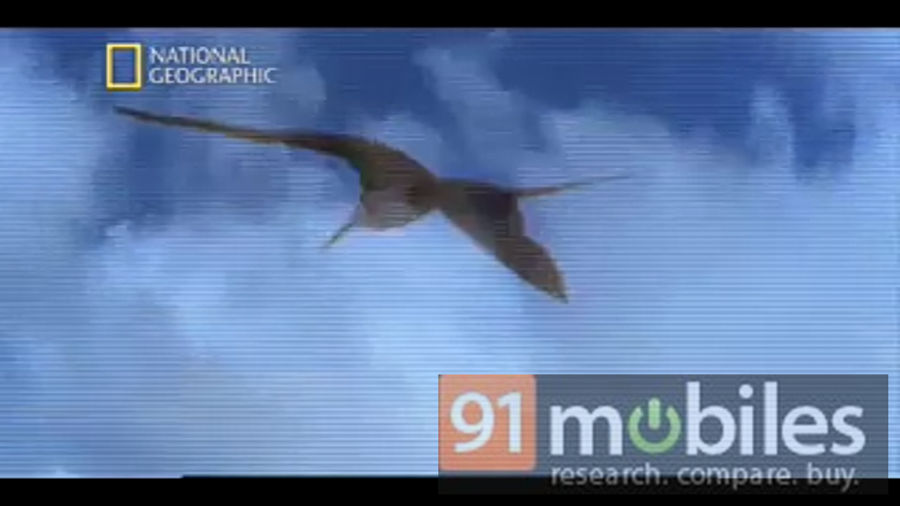 No doubt the quality of content offered through the application is good, and users can enjoy seamless streaming, all thanks to the network optimisation incorporated by Digivive for their system. We tested the app for accessing content on the move and at various locations as well, and if we had to sum up, we would say that the app and the associated service offer very good experience.
Ultimately, everything boils down to the limited availability, monthly cost, and the fact that Digivive's very own app NexGtv offer similar services at identical cost. However, the app gets 10/10 for functionality and its easy-to-use interface, and the overall experience make the Airtel Pocket TV a great app to have on your smartphone.
Editors rating: 7 / 10


Pros
Adaptive streaming
Great choice of content
Cons
A tad pricey as a service extension
Exclusive to Digital TV users