Airtel is the first telecom operator to render the mobile wallet service in India. The concept airtel money allows the customers to use their mobile phones to make payments without hassle of carrying the cash or change. After the first phase of launch in Chennai and Gurgaon now airtel announced this service to customers in Delhi, Noida, Ghaziabad and Faridabad.
Airtel built a strong ecosystem of partnership with over 2,200 merchant establishments across Delhi NCR. These merchant outlets allow airtel customers to make payments through airtel money. This merchant establishments include utility providers like NDPL, BSES Yamuna, BSES Rajdhani, Indraprastha Gas, LIC and organized retailers such as Easy Day, Chalchitra, Yo China, Costa Coffee, Hair n Shanti, DT Cinemas, Fun Cinemas among others as well as local chemists and a many grocery stores.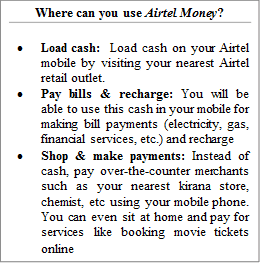 Commenting on the launch, Mr. Sanjeev Kumar, CEO – Delhi NCR, Mobile Services, Bharti Airtel said, "At Airtel, it is our constant endeavour to introduce innovative products and services that delight our customers. We are today excited to announce the launch of airtel money for our customers across Delhi NCR, who will now be able to make cashless payments through their mobile phones – anytime, anywhere" Mr. Sriram Jagannathan, CEO, Airtel M Commerce Services Limited adds, "Whether buying groceries, shopping in a mall or eating out with friends – India has traditionally relied on cash to pay for just about anything. With changing times, this trend shifted towards the use of credit cards – and has now gone even a step further. Today, we are delighted to introduce airtel money in Delhi / NCR – a convenient and secure way of making payments through the mobile platform. Having successfully launched airtel money in Gurgaon and Chennai earlier, initial feedback on airtel money has been indeed promising. We are excited about bringing the airtel money experience to our 8 million mobile customers in Delhi / NCR – and look forward to transforming the way the city transacts".

To know more details about airtel money, customers can dial 12121 (toll free) from their Airtel mobile phones or visit www.airtelmoney.in to get started. Non airtel customers or customers calling from other than airtel numbers can dial 88000121 21