The advent of Ganpatti Bappa has brought good news to the subscribers of Airtel that would allow them to participate in the aarti at the Siddhivinayak and the Lalbaugcha Raja with teh help of the LIVE AARTI. Airtel has launched special "Ganesha pack" for the Airtel users. It has recently made an announcement about the launch of its latest "Ganesha Pack" which will offer a host of products that will definitely keep all the Airtel customers in the festive mood through the celebration time.
As already mentioned above including the LIVE AARTI the direct broadcasts of the Ganeshji shows will also be offered through this pack. Other features of the pack includes Ganpati Portal, Ganpati Downloads & Ganesh Predi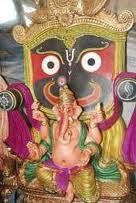 ctions.
To avail this pack the subscribers have to call on 55201(Toll free) and that too at just Rs. 2 per day while an entry fee of Rs. 5 will be charged. So, if you have missed an Aarti while at work or traveling then dial 55201 and listen to the LIVE Aarti of your choice.
While the Ganapati Portal will allow the customers to enjoy their favorite Ganesh Bhajans, the ardent devotees of the Ganpatti who are enthralled by the mythological stories can get all the information of the most worshipped deity and interesting stories that revolve around Ganpati Bappa. All the services are available at Rs. 2 per day. To subscribe to this portal all one has to do is call 543212604. Through the Ganesh Portal customers can also dedicate a greeting on TV or on mobile.
So its time to say GANPATTI BAPPA MAURYA in unison for all the Airtel users. Thakns to Airtel for bringing home the Ganpatti from the holy Sidhivinayak to the palms of our hand.