Greenpeace, an international Environmental activist group has been running a campaing against Bharti Airtel and other major telecom operators to avoid using diesel to power their mobile towers. You can lend your support to this group, if you believe in this campaign here. The petition says "Airtel, I don't want you to use dirty diesel energy. Switch to renewable energy." Greenpeace claims that Indian companies are spending Rs. 12,600 crores by burning almost 1800 million litres of diesel to power approximately 400,000 towers across India. These towers consume as much as 14 billion units of electricity every year. Indian government provides subsidy on diesel cost to these operators. The subsidy works out to Rs. 2,600 annually!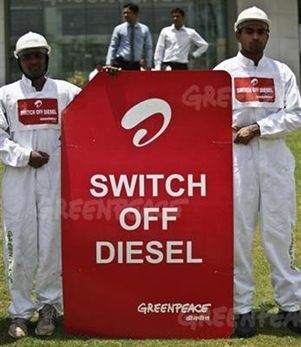 Greenpeace claims that this subsidy amount should be channeled towards developmental initiatives and that telecom operators should resort to greener and renewable energy sources. The recent report from KPMG projected that by the end of the year 2012, there would be around 797,000 base station towers across India to keep up the 3G demands of India! Greenpeace has been focusing their campaigns against Aircel, Airtel, Idea, Reliance, Vodafone and BSNL.
Airtel, in a seeming attempt to divert to the attention, has conducted the board meetings without the presence of any paper. Instead every board member and directors were given a fully-loaded iPad 2 – 64GB version with Wifi+3G that had all the agenda papers and presentations required. Airtel officially released a statement about this anti-paper drive. Greenpeace is clearly not contended with this minor efforts and wants Airtel to focus on the core issues such as shifting non-diesel clean energy sources!