Bharati Airtel has launched 4G mobile broadband services in Chandigarh, Mohali and Panchkula. Airtel has already launched 4G services in Bengaluru, Kolkata and Pune.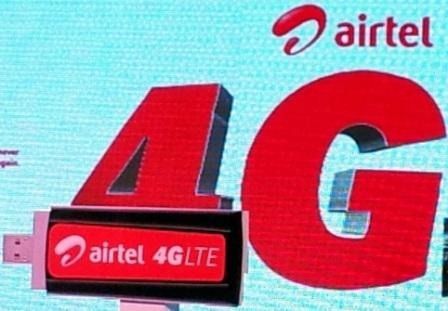 Mr. Jagbir Singh, CTO & Director, Network Services Group, announced, "This launch is another first by Airtel that further enhances the footprint of mobile broadband in India. We are optimistic about the potential of Airtel 4G services and invite our data savvy customers in Punjab to enjoy this world class data experience."
4G LTE (Long Term Evolution) technology is a standard for wireless communication with high-speed transmission for mobile phones and data services. With 4G LTE service, users can access HD videos, multiple chatting, instant uploading of media files and download of rich content faster and more efficiently. The company has announced that it will provide support for voice services in the Pune circle, but hasn't mentioned anything regarding the service availability in other areas.
The 4G LTE service has been currently launched with two devices- a 4G multimedia dongle and a Wi-Fi router (CPE), for a price of Rs. 4,999. Customers can avail five unlimited plans-
Rs. 999 for 6GB
Rs. 1,399 for 9GB
Rs. 2,999 for 18GB
Rs.3,999 for 30GB
Rs. 4,799 for 50GB
The company is offering discounts with all the services such as a Rs. 147 cash back every month for 6 months on the Rs. 999 plan, Rs. 466 monthly cash back for 6 months on the Rs. 1399 plan, Rs. 312 discount every month for 12 months on the Rs. 1,999 plan and Rs. 417 discount every month for 12 months on the Rs.3,999 and Rs. 4,799 plans.
Other promotion offers include an offer called Smartbytes which allows the user to buy extra high speed data quota.