Aircel announced the launch and availability of Huawei IDEOS – Android powered smartphones today. Huawei IDEOS U8150 is the entry level android smartphone from Huawei. The handset is a Android Froyo (2.2) powered one. Comes with a capacitative touch screen, 3.2 MP camera with auto-focus, 256MB RAM, 3G, A-GPS and is powered by Qualcomm MSM 7225 528Mhz processor. Since this is froyo-powered, the handset naturally supports wifi-tethering wherein eight other devices can hook on to the ideos device for accessing the internet. This wi-fi router facility is a major improvement in Froyo.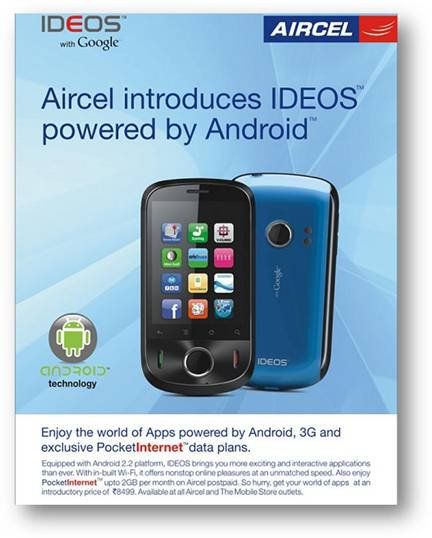 Aircel is launching Huawei IDEOS at an introductory price of Rs. 8,499. Aircel will offer upto 2GB data download FREE on post-paid connections. You can purchase the handset at the Aircel stores and The mobile Store retail outlets.
Micromax upped the ante with the launch of Andro A60, which is currently being sold at Rs. 6,600. Intex too announced about an android phone which will be priced at Rs. 5,500 and which can be expected in early february 2011. So, the affordable android phone war has begun. I am sure some major players will be competing for this segment. Checkout the Top android phones available under Rs. 10,000. Micromax Andro A60, LG GT540 Optimus, Samsung Galaxy i5500, Spice Mi-300, Samsung Galaxy i5503, LG GW620, Dell XCD28.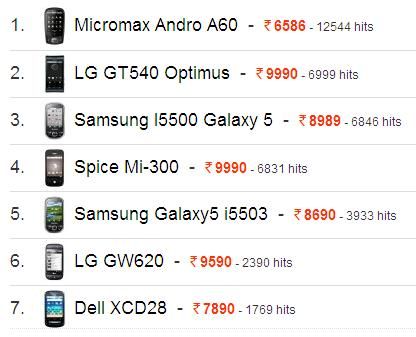 Via Aircel Facebook page