Yesterday, Acer officially released 5 new Acer Iconia family of devices for the Indian Market. The devices include Acer Iconia Tab A500 and Acer Iconia A100 – two Android honeycom based tablets, Acer Iconia W500 – Windows 7 based Tablet, Acer Iconia Win7 – Windows 7 based netbook, Acer Iconia S300 (Also known as Acer Iconia Smart) – Android Gingerbread based smartphone. The news about these devices were circulating since November 2010!
Acer Iconia A500
Acer Iconia A500 is a 1 GHz Dual-core and Android Honeycomb powered 10.1 inch capacitive touch screen tablet. The dual-core processor is NVidia Tegra 2 and has 1GB of RAM. The tablet has a good battery life with the 3200 mAH battery. The connectivity options include Wi-Fi 802.11 b/g/n, Bluetooth 2.1, A-GPS, micro-USB and HDMI ports. Sports a 5 MP rear-facing camera with a LED flash; 2.0 MP front-facing camera for video-calling; All types of sensors including Accelerometer, gyro, proximity. Every social networking apps that you can imagine. Weights 730 grams. Comes in two versions 16GB and 32GB. Acer Iconia A500 will be available in stores very soon. The 16GB version is priced at Rs. 27,990. Acer also plans to release a 3G version of Iconia A500, though no information is available on release date and pricing. Acer Iconia A500 arguably becomes the first Honeycomb tablet to be officially available in India. Samsung Galaxy Tab 10.1 and Motorola XOOM are shortly to be released in India.
Acer Iconia A100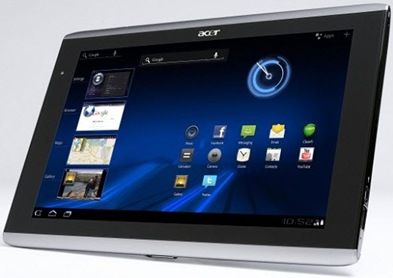 Acer Iconia A100 is the small brother of A500. Iconia A100 has almost same specifications as that of A500 but the screen size is 7.1 inch and the RAM is of 512 MB. The tablet weights just 470 grams. The price is not announced yet and the device might be available in stores after 6 weeks.
Acer Iconia S300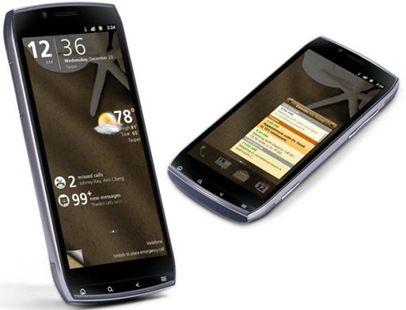 Acer Iconia S300 is Android Gingerbread and 1GHz processor powered smartphone. It has got a very longish form factor and there is ample screen real estate with a 4.8 inch capacitive touchscreen display. Acer Iconia S300 becomes the second gingerbread smartphone to be officially announced in India. The first one being Google Nexus S. Iconia Smart has a 8 MP Camera with autofocus and LED flash. In-built storage of 8GB is available. The handset is slightly heavier at 185 grams. Pricing and Availability is not announced yet. The very long form factor might prohibit people from carrying it on their pockets.
In addition to the android devices, Acer also unveiled Windows 7 based devices. Acer Iconia W500 sports almost same specifications as that of Iconia A500 but is powered by Windows 7 Operating system. There is one unique feature about Iconia W500. It has got a detachable keyboard dock complete with ports for ethernet lan connections, a cool finetrack pointing device.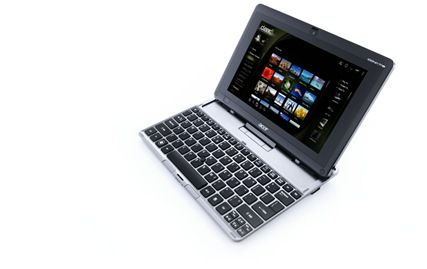 Acer Iconia Netbook is a windows 7 based netbook with dual touchscreen displays! The possibilities and utilities of this device is endless. This looks like a very unique device of the year 2011. Not much information is available about the pricing and availability. But we promise to dedicate a separate post to cover about this cool device!