Acer is reported to be working on company's second flagship device dubbed as Acer Liquid S2 to compete against the large screen devices like Samsung Galaxy Note series. According to the reports company is going to announce this phablet at this year's IFA Trade show in Berlin in early September. It is reported to be having 5.9inch display which will make it a direct compeitior to the Samsung Galaxy Note 3 phablet which is expected to be announced on September 4th in Samsung Unpacked 2013 event.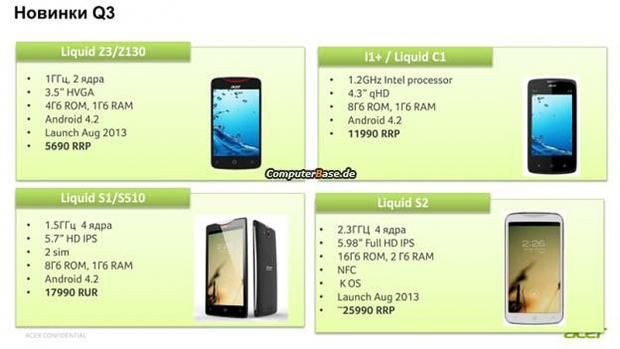 According to the leaked roadmap of company the Acer Liquid S2 is going to feature a full HD 5.9inch IPS touch screen display with the resolution of 1080 pixels. It is expected to be powered by a 2.3GHz Quad Core processor from unknown vendor but rumors suggest it is the Snapdragon 800 from Qualcomm. However, the previous flagship device
Acer Liquid S1
from the company was powered by a MediaTek SoC. It is expected to arrive with 16GB of internal storage along with 2GB of RAM memory. The rumored next flagship from Acer is going to join the list of premium Android devices with high price tag. The leaked report is coming from the German website Computerbase.de and we are not sure if the report is authentic. Report on the website suggests the next Acer flagship is running "K OS" which might be referred for Android Key Lime pie but it is quite hard to believe because Samsung's next Note flagship is confirmed to be launched with Android 4.3 version. Anyways, nothing is confirmed at the moment but we will update you more after getting some official confirmation on the phone.