Acer has introduced 21-inch and 27-inch Android powered all-in-one desktop PCs.
Acer has introduced two new all-in-one Android desktops, the Acer Acer DA223 HQL and Acer TA272 HUL, which will be showcased at CES next week.
Acer DA223 HQL
The
Acer DA223 HQL
offers a 21-inch full HD wide-angle display, with a pixel density of 105ppi. The touchscreen desktop runs Android Jelly Bean, and is powered by a 1.7GHz Qualcomm Snapdragon 600 processor. It can also be hooked up to a mobile device to function as a secondary monitor. The DA223 HQL also has a built-in battery, making it a portable device.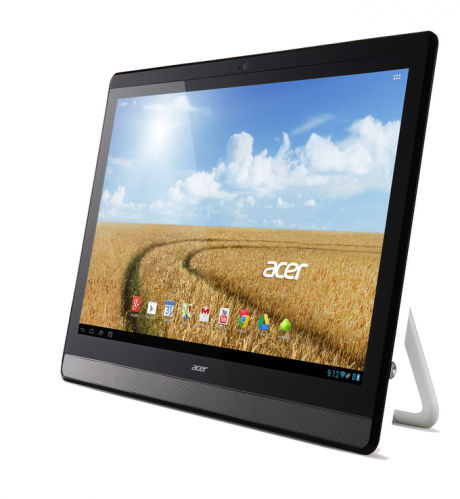 The desktop sports a tilt stand which can be adjusted to various angles, and also be laid down flat. It has started shipping globally for $699.
Acer TA272 HUL
The
Acer TA272 HUL
offers a larger 27-inch wide-angle touchscreen display, with a 2,560 x 1,440 pixel resolution. It also runs Android 4.2 Jelly Bean, and is powered by an NVIDIA Tegra quad-core processor.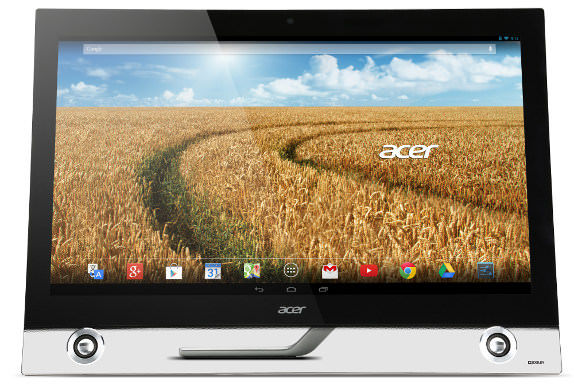 For connectivity, it has an HDMI port, DisplayPort and USB 3.0 port. It is placed on an asymmetric stand, which can be adjusted between 30 and 80 degrees. Other features include 16GB of internal storage, Dolby Surround Sound and a 2MP webcam. Unlike its smaller sibling, the Acer TA272 HUL doesn't offer a built-in battery. It is priced at $1099, and has also started shipping globally. Both AIO's are equipped with with Acer's BYOC (Build Your Own Cloud) service, which allows users to remotely connect with other Acer PCs.