Acer, the popularly known Taiwanese multinational Company known for its production of hardware and electronics, has triumphed with incredible sales and profits. Among the corporations productions are products including desktop and laptop PCs, tablet computers, servers, storage devices, displays, smartphones and peripherals.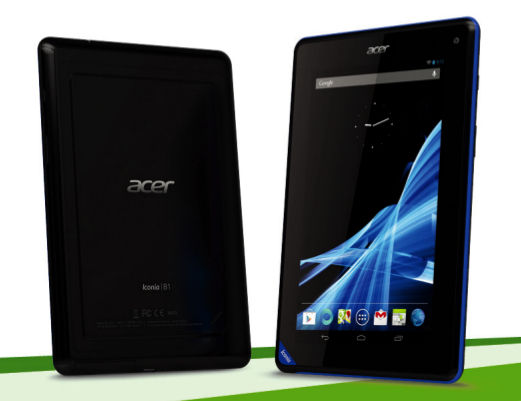 Acer, is now the world's fourth largest PC maker, enjoying a chunky portion of the market share. Acer has discussed its launch of its new tablet, as being an Android based tablet, set to fit into the budget segment. Acer has also called this tablet an educational tablet for kids and related purposes. The Taiwanese computer maker is aiming at eradicating if not lessening the demand for Chinese brands, which are now creeping all over the global market. Chinese dubs of popular laptops and tablets are seen everywhere. Hardworking international tablet makers are collectively angered by the growing marker control of these Chinese products. "Thailand is one of our top three countries in the world, therefore we chose to make the introduction of our new educational tablet, the Iconia B1-A71, at below 4,000 baht,"Nitipat Praweenwongwuthi, senior marketing manager at Acer Computer said. The
Acer Iconia B1-A71
has a 7 inch display and works a dual-core processor. It has the Android 4.1 operating system. In Thailand this tablet is priced at 3,990 baht which includes the VAT and the tablet device will support WiFi only. "The Iconia will be our flagship product for this year, which will help in increasing our market share in the Android-based tablet segment," said Mr Nitipat. Acer Iconia is highly recommended newbie fiddlers of tablets, particularly for children who have iPad like ambitions but will enjoy this tablet just as mich. Acer said it wishes to reach a sales target of a minimum of 40,000 units a month to go up the charts as one out of the top three ranks of tablet vendors in Thailand. Mr Nitipat further stated that in Thailand, those tablets which come with a price tag of less than 6,000 baht, constitute 40% of sales and are the contributors of the growth in the segment. Primarily influencing the growth in sales is the inflow of cheap Chinese products and the state's One Tablet Per Child scheme. Mr Nitipat said that Acer intends to take on the government's tablet scheme for 2013, to enable it to supply those tablets which are estimated to total 1.6 million units. Acer's notebook slumped by 5% last year, since there was a divergence in custumor consumerism leaning towards Acer's tablets and smartphones. Acer isn't satisfied though, and is keen to reinvigorate its notebook sales and take it back to previous statistics and past those to record a new high. The success of its hybrid (ultraportable notebooks turned computers) will spark up demand for its notebooks. We're backing Acer as we want more brilliant productions from it. With the market opening up for Hybrids this could be the chance for Acer corporation to shine and pick up its sales. "We aim to become a prime leader in the convertible device market very soon," said an assertive Mr Nitipat.