Companies have been made several attempts to enable the use of a smartphone in conjunction with the computer. Motorola Atrix, Asus PadFone or recently failed crowd-funding attempt for Ubuntu Edge. None of them can said as entirely successful, still companies are trying to make this work as the benefits of bridging both smartphones and a laptop are a plenty. Specifically since smartphones are becoming more and more powerful, and their portability allows them to taken anywhere comfortably.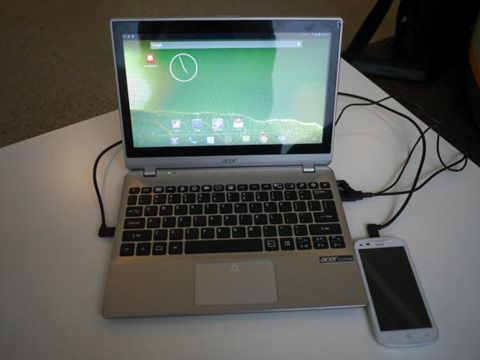 Acer has also joined the fray to try to bridge this gap with its aptly named Extend dock since it extends the capability of the smartphone. The phone can connect with the dock with an MHL (Mobile High-Definition Link) cable, thus ensuring zero-lag in mirroring the phone's screen. The dock is also able to make use of phone's sensors for various purposes. Acer has also confirmed that the final release of the dock will allow wireless connectivity as well via Bluetooth. The concept version showed that the connection will enable to use the laptop for calls and messaging purposes and even use the smartphone as a remote control for games. This means that users can enjoy the games on a large screen.
Since the dock essentially relies on the smartphone only, so it does not have a lot of specifications. It has a 6000 mAh battery underneath, and the sides have a USB ports for connecting pen-drives or mouse. The keyboard is also having few keys for controlling Android-related function such as toggling Wi-Fi or Bluetooth, firing up browser or email, and more. Acer might make the screen touch enabled, though the concept's having a standard screen only.
The Extend can become a great device for professionals since it can allow them to type for long hours. It will be priced around $500 and will be launched in the Q1 2014.
Image Credit: CNET