As promised by Mr. Kapil Sibal earlier, Aakash 2 is here. Mr. Pranab Mukherjee, Hon'ble President of India, unveiled the tablet in Delhi yesterday. Aakash 2 is the upgraded version of earlier launched Aakash tablet which was criticized a lot for its below par performance.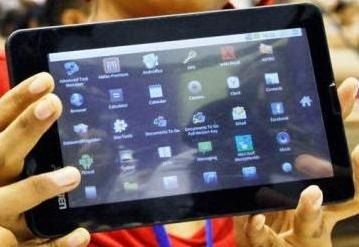 Aakash 2 tablet comes with a 7-inch capacitive touch screen running Android 4.0 powered by 1GHz and 512 MB Ram. This is a significant improvement over the earlier Aakash tablet which had a 7-inch resistive screen running Android 2.2 powered by 366 MHz processor. The new Aakash tablet will be available to students for a subsidized price of Rs 1130. This is around 50% subsidy as Datawind, the manufacturer of Aakash tablet, will be delivering it to HRD ministry for a price of Rs 2263. Note that the commercial version of Aakash 2 is known as Ubislate 7Ci and can be purchased through our product page here.
"The price is Rs 2,263 at which the government purchases the device from us. The government subsidizes it by 50 per cent and it will be distributed to students at Rs 1,130," says Mr. Suneet Tuli, CEO, Datawind.
The tablet will be provided at subsidized price to the students across the country. The first one lakh devices will be distributed among the engineering students in coming months followed by subsequent distributions to other students. Government targets to distribute around 22 Crore devices in next 5 to 6 years.
Aakash 2 Key specifications:
7-inch, 800×480 pixels, Capacitive touch screen
Android 4.0
VGA front camera
1 GHz processor
512MB Ram
4 Hours battery backup