Social media website, Twitter is all set to launch a new Music app soon.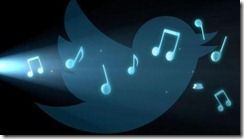 Information on Twitter working on a new music app had leaked online earlier, and has now been confirmed finally.
The social music startup We Are Hunted announced that it had been acquired by Twitter, although no further details were revealed. twitter has acknowledged the claim which was tweeted by the newly acquired startup.
We Are Hunted works on top trending music on social media, besides suggesting new music and allowing you to buy the track via iTunes. Twitter might continue to do the same.
The device will feature Soundcloud clips that you can listen to from within the app and view music videos from Vevo. The app is expected to be divided into four sections including a section called "#NowPlaying", and the user need not necessarily have a Twitter account.
Reports also suggest that the app will be available on Apple's iOS only for now, though we are sure it cannot remain that way for long and will be available on other platforms too.