When the clash is between the titans, its tough to decide on clear winner. The launch of Samsung Galaxy S III had already raised the benchmarks of the premium segment mobiles. Almost at the same time we saw two more Quad core devices coming in, HTC One X and LG Optimus 4X HD.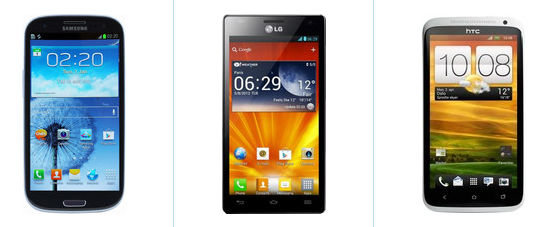 All the quad core devices mentioned above are amongst the best Android mobiles under Rs 40,000 in India. So when you are going to burn a huge hole in your pocket, its obvious to be choosy. You need your next device to be perfect and therefore, it becomes important to compare the options on every important aspect. Screen: Display is the one of the most important aspect as the real delight generates from here. Specification-wise, there's no remarkable difference as you can see in the chart below. However, technically there are differences.
Samsung Galaxy S3 comes with Super AMOLED display, which means more vibrant display and better sunlight legibility. On the other hand, LG Optimus 4X HD and HTC One X comes with LCD which are more bright in comparison to Super AMOLED. Especially, LG Optimus 4X HD posses a 750 nits display which makes it brightest among the trio, though it lacks a bit on the sunlight legibility front. All these differences can't be noticed until you peep into it deeply. So do we have a clear winner here? I guess we have! The Super AMOLED screen of Samsung Galaxy S3 is excellent in terms of picture quality. Plus it has been protected by Corning Gorilla Glass 2. These two features make it best of the bunch. Processor:

All 3 mobiles are powered by Quad Core processors (and that's why we are comparing them). While Samsung Galaxy S III sports a 1.4 Ghz Exynos processor supported by Mali-400PM GPU, rest 2 are powered by 1.5 Ghz NVIDIA Tegra 3 supported by NVIDIA's own GeForce GPU. The variation is really marginal and doesn't make a noticeable difference. All 3 mobiles are powerful enough to handle any kind of apps and games. Software and UI: All the three mobiles are loaded with Android 4.0 and there are good chances that all of them will get the Jellybean update as well. Looking at the past record, we can expect Samsung Galaxy SIII to get couple of more Android upgrades. All the OEMs have skinned the OS with their proprietary User interfaces namely Samsung Touchwiz 4.0, LG Optimus 3.0 and HTC Sense 4.0. While you can expect HTC Sense to be most polished, Samsung's Touchwiz simply takes a lead in terms of features. The much hyped Smart Stay (which keeps the phone awake till you are looking at it) along with features like S-Beam, S-Voice etc. makes Galaxy S III a real delight to use. Since all three are powered by Android Ice Cream Sandwich and all of them offers a wide scope of customization through Apps and ROMs, the UI shouldn't be a major factor in deciding which one to pick. Camera: Camera feature is again same specification-wise. All 3 comes with 8 Mega Pixel camera with 1080p video recording. Most of the camera features are identical as well. All of them have burst mode and ability to take still shots during video recording. None of them have a shutter key, though In LG Optimus 4X HD, you can use volume rocker as a shutter key. Battery: So now when we have Android 4.0, High res screens and high-end processors, battery backup has to be a concern. Unfortunately HTC One X lacks behind by a significant margin here.

Though LG Optimus 4X HD seems to take a lead here, but remember it has a 750 nits screen and so we expect a shorter battery backup then the Samsung Galaxy S III. Verdict: Its tough to decide a clear winner here. However we noticed Samsung Galaxy S III taking lead in various comparisons. Considering everything (including the brand value) I would keep Samsung Galaxy S III on top followed by HTC One X and then LG Optimus 4X HD. Coincidentally, these mobile's price in India is also in order of their ranking. The best price of all 3 mobiles are as below: