About 1.5 years back, we began the discussions about launching a portal dedicated to Indian mobile landscape. We were quick enough to pick up this name 91mobiles.com for the same! We liked the name instantly..we thought the name is cool..It has the Indian ISD code '91' and the word 'mobiles' in it…Beautifully describes the scope of the site! At that time, there were quite a few portals and blogs that were well established, popular and well ranked. But we realized that there was not a single website covering all aspects such as research, reviews, discussion, educational articles, product comparison, best prices, dealer and service centre information, related videos for mobile phones…We decided that if we have to launch a website, it has to be a COMPREHENSIVE one..we stuck to our goals..We spent around 4 months building the product, gathering and curating the content. We finally launched 91mobiles on February 19th 2010. It has been a good journey since then…it's just the beginning and we are here to stay! I will give 5 reasons why we think we are growing well.. 1. Traffic Our traffic has been growing steadily. Yesterday, we reached a significant milestone. We had 25,000 unique visitors for 91mobiles.com on a single day! From my experience in building and launching multiple sites, I can say that reaching 25,000 visitors within a span of 10 months is pretty good. We have done zero advertising and promotions.

2. Alexa Rank for India We have broken into top 1000 websites in India according to Alexa. Naturally, this is a reflection of our traffic growth and good to see this. link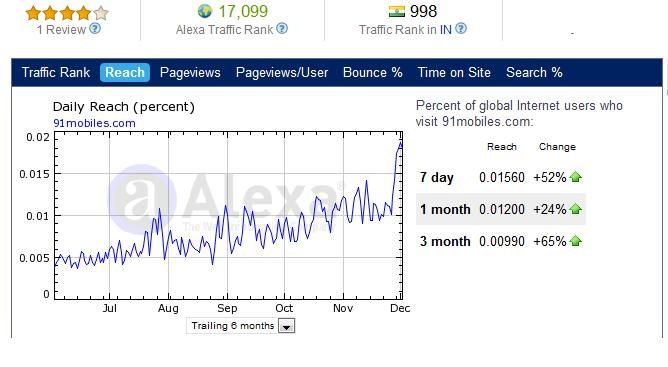 3. Community We have 15,000 registered users and more than 5,000 fans in our facebook page. These users are active. They are writing reviews, asking questions and interacting with other fans in the facebook community. Having a growing, active and engaging community is BIG SATISFACTION. You can't buy community with money..It has to be built with trust and quality. In fact, we began our facebook page only 3 months ago! Link to our facebook page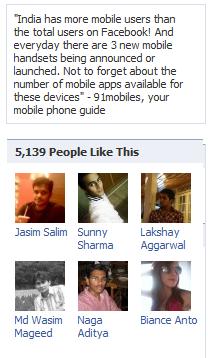 4. Mobile Phone Sales We don't sell mobile phones. But we do help our users by pointing out to the best deals out there in the market. Once in a while, we also bring in some cool offers. We are working on this and from 2011 you can see some exciting offers for our users. In the last 3 months, we have influenced mobile phone sales worth Rs. 30 lakhs. Users have bought more than 700 mobile phones through us and ended up getting great prices and FREE gifts. In the last month, we influenced sale of 240 mobile phones! Remember this is only across the sites that we have officially partnered with such as flipkart, adexmart, tradus, letsbuy and futurebazaar. We have not included the unofficial sales across other 30 online stores..But you get the picture..This is really encouraging stuff..Our main goal is to pass on the benefits to the buyers 🙂 5. Constant commitment This is one of the most important reason of all. We have been engaged in building some cool features for 91mobiles. Many of those would be rolled out in the coming months. We are building thes features after studying the demand and what users want. These features would take 91mobiles to the next level… We have invested significant time, effort and money towards building this product. We are still not profitable. But I am happy to say, we will be breaking even with couple of months and then we can sustain the site for the coming years..! All of this would not have been possible without your support and encouragement. This is your product..! We are all collectively building a resource for mobile phones..Share your experience/reviews about the mobile phones you own, Write about interesting tips and tricks for the benefit of other users, Ask and answer questions raised by fellow users, tips us about any new launches or interesting things happening in the telecom space..and refer to your friends and family…This is YOUR product… Cheers.