In a few years, almost every mobile network service provider has shown significant improvements in terms of customer care. The market is overwhelmed with a throat cutting competition between a number of big and small players. The number of mobile users are increasing with a huge pace, thus a bit delay in resolving some cases might be acceptable. But recently we have figured out a case where AirTel, definitely a leading service provider is unable to resolve the complaints of some customers for a long time. A resident of Bangalore is regularly complaining about the terrible network coverage in his area to the customer care and through the AirTel Facebook page as well. Have a look on this small string of conversation between buyer and the seller.

Since Mr. Savio has the request id, we can definitely assume that he must have filed a complaint to customer care some time back. Now Airtel replies:

Oh thanks!!! Then why the hell customer care centers are made for? Seems to be an auto generated reply. But at least they responded. As instructed the consumer mailed to the above mentioned address and responded back. The conversation then carried on: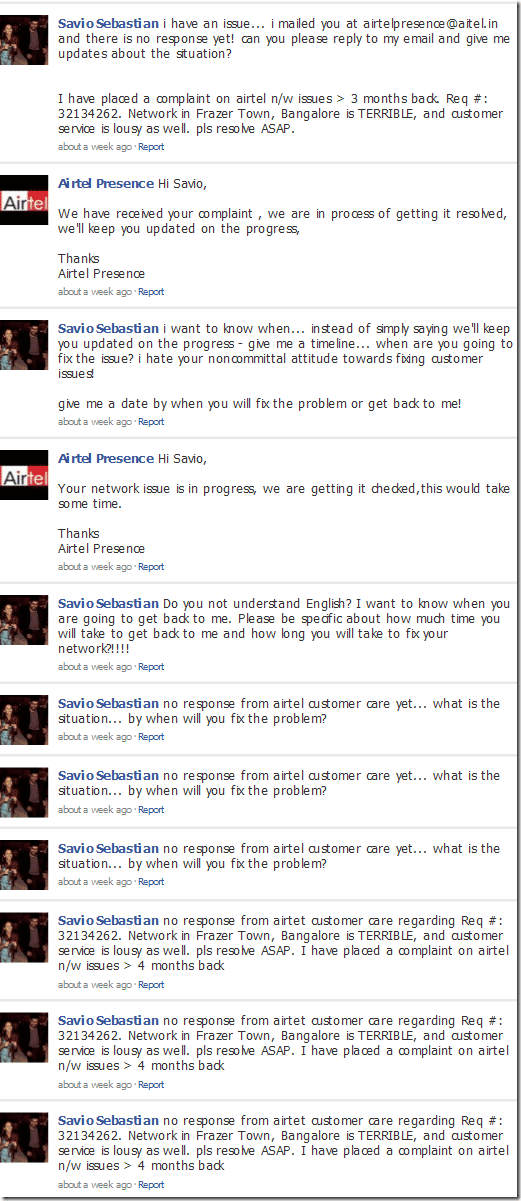 Look at the frustration level of the customer and unresponsiveness of the company. I wonder how a company can keep mum at this level. Anyways after such a long blah-blah, Mr Savio got some response, not from the Airtel but from some other unhappy customers.


Still no response, Mr. Savio kept on posting. All he wanted to say was, at least give some deadline.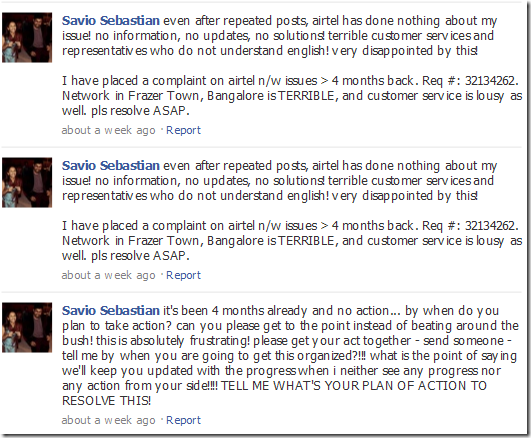 Dear service provider, we understand that resolving network issues are not kids play and it takes some time, but 4 months is too much. If nothing, at least you could give a time frame to your frustrated customer.