Do we all remember the ambitious project proposed by Government of India ??? If not, let me help you to recollect. This is about the project Sakshat, an Android Tablet proposed for $35. The project faced many setbacks and even the tender was cancelled for some time being. After crossing many hurdles the project was finally on track now. The Sakshat , a $35 Android Tablet is ready for shipping now. As a kick-start, about 10000 tablets were heading to IIT-Rajasthan in the late June. Officials says, another 90000 more units will be delivered to various institutions in the subsequent four months.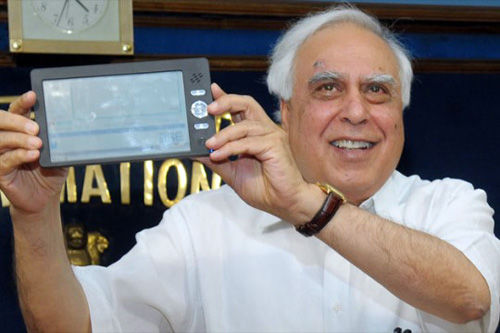 The tablet Sakshat was developed by HCL Technologies and was proposed for $35. Now price was little changed. They claims that, the final product is able to deliver for $49 which is approx Rs.2200. However, Government of India is willing to subsidize the product cost by 50% for students. So the unbelievable actual cost of this Android Tablet will be Rs.1100 Sakshat is a 7-inch touchscreen tablet runs on Android OS. This device equipped with 2GB of RAM, a front-facing camera, and a 32GB Internal storage. The device is capable for Video Conferencing and running Multi-media content. The laptops will be distributed in institutions by the HRD ministry, and you cannot buy this tablet in any retail outlet yet. As a part of India's National Mission for Education, Information and Communication Technology (NMEICT) 504 universities and 25,000 colleges countrywide would be the recipients of these laptops. Sakshat Technical Specifications
Touchscreen Display
2GB RAM
32GB Internal Storage
Wi-Fi, 2 USB Ports
Android Operating system
Operated by a 2-watt system.
Features
Video Conferencing facility
Multimedia content viewer [jpg, pdf, zip etc.,]
Open Office, SciLab
Internet browsing with javascript and flash support
In-built keyboard