It seems like MTV and Swipe Telecom collaboration are all set to blaze into the telecom market. Their joint venture recently launched the MTV Volt phablet, and now we hear that the companies are all set to launch three more co-branded phablets by this year end.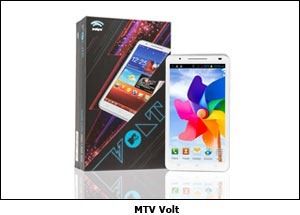 Sandeep Dahiya, Senior Vice President & Business Head (Consumer Products), Viacom18, said that, "In the coming months we, together with Swipe Telecom, will launch more such devices that can be phablets or tablets, which will have a complete MTV look and feel." The company has a 2 year licensing deal with Swipe Telecom and will introduce 8-12 devices ranging from phones, phablets and tablets in the price range of Rs 6,000 to Rs 20,000 in the coming year.
The companies are looking forward to a sales figure of Rs. 25 crores over the next two years from this joint venture.
The MTV Volt is a 6 inch dual SIM smartphone launched at a price of Rs 12,000. It has a 1GHz dual core processor with 512MB of RAM. It is powered by Android 4.1.1 Jellybean. The device has an 8MP rear camera with flash and a 1.3MP front camera. It runs on a 3200 mAh battery. An exclusive feature of the phablet is the inbuilt TV player, offering viewers on-the-go access to MTV.
Previously, MTV had launched two devices in a similar partnership with Micromax where they sold 2.3 lakh units with a good turnover. Regarding the current deal, Dahiya said that, "This year, we expect to see sales (based on MRP) to the tune of Rs 150 crore."