1Weather App that was released almost one Year ago by OneLounder has been now updated to Version 2 which gets the fantastic App introduced to various New exciting features.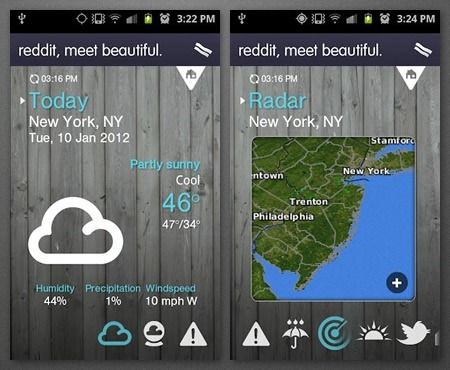 1Weather is a free App available at the Google Play Store that promises to deliver useful details regarding the Weather Conditions in any Area including current as well as extended Weather Information.
OneLounder has introduced the recently updated Version of the Weather App which has introduced the App to its users with several new features. The newly added features in the recently updated Version of the Weather App includes a refreshed User Interface, proper Tablet support, Optimized Radar section, Map Pin addition, Improvements in Ongoing notifications along with a Lock Screen Widget.
The 1Weather App in its Tablet Layout exhibits both intuitive as well as informative features along with highlighting the most important informations on the Main Screen. The Information provided by the 1Weather App includes Current temperature, Humidity, Wind Speed, Hourly forecast and many more. Some extended forecast features have been added to the App along side.
1Weather App also features support to Lock Screen Widget compatible with Android 4.2 (Jelly Bean) OS. The Lock screen widget is available with Classic Circular and Modern Compact options to choose from.
The V2 update for the 1Weather App has brought many other subtle changes in the App which includes a Map Pin which tells your exact location on the Screen of the Radar and improvement in the Notification features.
1Weather is available for free at the Google Play store but for those who want to avoid the ads the App is available with a price tag of $2.