When datawind – the company that will manufacture the India's cheapest tablet Aakash – began accepting the bookings from the interested customers, little did they realize that they are playing with fire. They grossly underestimated the demand for this 7 inch resistive touchscreen tablet with a measly 366 MHz processor. Within 14 days, 14 lakh orders (1.4 million) have been placed online. That's a lakh orders per day! 100,000! Any ecommerce portal would die to reach that figure! Now, the problem is that Datawind does not have the necessary manufacturing capacity nor the necessary logistics and supply chain to fulfill this demand. Currently, they have one manufacturing plant in Hyderabad. Our guess is that the facility can probably manufacture about 15,000 to 20,000 per day. To fulfill the 14 lakh orders that has been placed so far, it will take 70 days! And let's not even think about the orders that will continue to accumulate. In the mean time, Government of India has also demanded Datawind to be ready with the next lot of 90,000 tablets to be distributed to the educational institutes..!
There's more. Most of the 1.4 million customers have mentioned "cash of delivery" as their preferred payment mode. Now, Datawind is thinking about honouring only those customers who have already paid through credit card or netbanking and think about the "cash on delivery (COD)" customers later. What a waste of customer acquisition and loyalty..! So, folks if any of you have placed cash on delivery order, forget about seeing the tablet in your hands any time soon.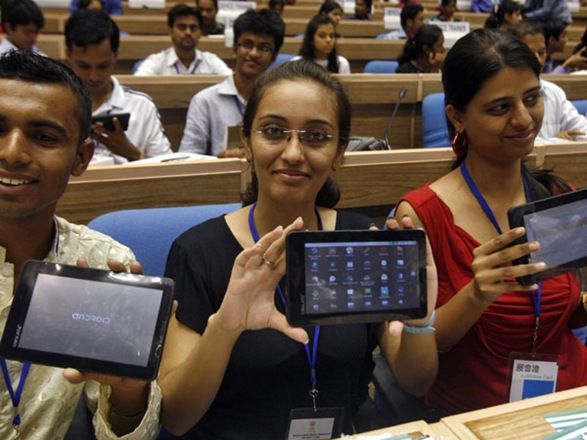 To tackle this unforeseen problem, Datawind is planning to build 3 additional manufacturing facilities at Cochin, Noida and an additional unit at hyderabad. The timeline to setup this manufacturing facility is end of April 2012. Once these manufacturing plants are setup, Datawind can manufacture 75,000 units per day. Hopefully that should be able to tackle the demand in steady state (assuming the demand fades away as the time goes by). We have serious questions about the after-sales support and service facilities to take care of faulty and repair devices. Can Datawind set all these things and bring things under control? Or has Datawind bitten more than it can swallow?
BTW, the ecommerce portal promoted by Nimbuzz called ncarry.com also sold the Aakash tablets through their site. They received a small lot of 30,000 items. These 30,000 items were sold in just few hours!
Specifications of Aakash – Low cost Android tablet from India
– Processor: 366Mhz. Connexant with Graphics accelerator and HD Video processor

– Memory (RAM): 256MB RAM / Storage (Internal): 2GB Flash

– Storage (External): 2GB to 32GB Supported

– Peripherals (USB2.0 ports, number): 1 Standard USB port

– Audio out: 3.5mm jack / Audio in: 3.5mm jack

– Display and Resolution: 7″ display with 800×480 pixel resolution

– Input Devices: Resistive touch screen

– Connectivity and Networking: GPRS and WiFi IEEE 802.11 a/b/g

– Power and Battery: Up to 180 minutes on battery. AC adapter 200-240 volt range.

– Document Rendering

– Android 2.2 OS

* Supported Document formats: DOC, DOCX, PPT, PPTX, XLS, XLSX, ODT, ODP

* PDF viewer, Text editor

– Multimedia and Image Display

* Image viewer supported formats: PNG, JPG, BMP and GIF

* Supported audio formats: MP3, AAC, AC3, WAV, WMA

* Supported video formats: MPEG2, MPEG4, AVI, FLV

– Communication and Internet

* Web browser – Standards Compliance: xHTML 1.1 compliant, JavaScript 1.8 compliant

* Separate application for online YouTube video

– Safety and other standards compliance

* CE certification / RoHS certification
Features of Aakash
Unbeatable Price:

Only Rs.2,999 for the UbiSlate
Monthly internet charges: Rs.98 / 2GB

High Quality Web Anytime & Anywhere:

Connect via GPRS or WiFi
GPRS: Embedded modem eliminates the need for external dongles and allows Internet access everywhere
WiFi: Allows fast Youtube videos at hotspots
Fast web access even on GPRS networks, across the country using DataWind's patented acceleration technology
Web, Email, Facebook, Twitter and much much more!

Multimedia Powerhouse:
Watching movies in the palm of your hand on a 7" screen

Audio library software helps manage your full collection of songs

Applications Galore with Android 2.2:

Games
Productivity software: Office suite
Educational software
Over 150,000 apps!

Full sized-USB port & Micro-SD slot:

Expand memory to 32GB
Use any ordinary pen-drive
Even plug-in a 3G dongle

And It's a Phone!